San Antonio Spurs vs Indiana Pacers: Takeaways & Star Performer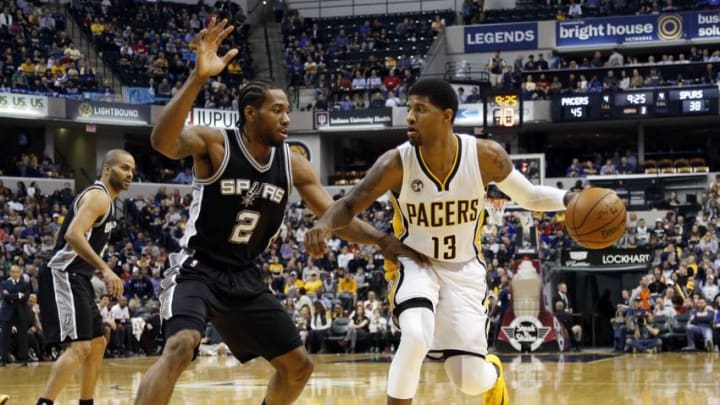 Mar 7, 2016; Indianapolis, IN, USA; Indiana Pacers forward Paul George (13) drives to the basket against San Antonio Spurs guard Kawhi Leonard (2) at Bankers Life Fieldhouse. Indiana defeats San Antonio 99-91. Mandatory Credit: Brian Spurlock-USA TODAY Sports /
The San Antonio Spurs (53-10) saw their winning-streak snapped on Monday as the Indiana Pacers (34-30) won 99-91. Pacers were led by Monta Ellis whom finished with 26.
The San Antonio Spurs without their leader in Gregg Popovich who did not make the trip due to "Family medical condition" struggled from the floor. The team missed 14 out of their 15 3-point attempts and were in an unfamiliar spot this season, playing catch-up.
More from Air Alamo
Indiana had everything going from the tip. It was apparent that the Pacers wanted to get out and run on the "older" Spurs team as they won the transition game–outscoring San Antonio 16-4. For a team that year in and year out look to be a team to look at in the East, coming into the game, the Pacers were just three games over .500. A win against the leagues second best team surely would give them a big boost of confidence.
Paul George, who shot 6 of 20 from the floor, made a key 3 with 15.7 seconds left to lift the Pacers to a big win at Bankers Life Fieldhouse, he finished with 23.
For the San Antonio Spurs, they were out of sync through-out the game as they were behind the whole way. They did show some fight as they brought the game within three several times in the final minutes of the game.
Kawhi Leonard and LaMarcus Aldridge scored 23 a piece to lead San Antonio. Tony Parker finished with six points but left early in the second-half with a bruised left-toe and did not return.
The loss snapped the Spurs six game winning streak on the road.
Key Takeaways
-Spurs Worse Shooting Performance
The Spurs' worst shooting performance this season came on a night they took a season-high 96 shots. They wound up 4 of 28 on 3s, had their worst scoring quarter of the season (13 in the first).
-Best Record After 63 Games
Mar 7, 2016; Indianapolis, IN, USA; San Antonio Spurs center Tim Duncan (21) shouts out instructions to his team in a game against the Indiana Pacers at Bankers Life Fieldhouse. Indiana defeats San Antonio 99-91. Mandatory Credit: Brian Spurlock-USA TODAY Sports
Though they lost Monday, the Spurs still have the best record in franchise history after 63 games (53-10).
-Tim Duncan Creeping on Another Milestone
With Tim Duncan 14 rebounds on Monday, he now has 14,998 in his career.
-Patty Mills Sharp Off Bench
Mills contributed 17 of the teams 25 bench points in the loss. He shot 3-of-10 from 3.
Star Performer: LaMarcus Aldridge
Aldridge had another double-double as he scored 23 and grabbed 12 rebounds. He also had two blocked shots. Aldridge brought the Spurs within three as he hit two free-throws with 1:55 remaining.