San Antonio Spurs: Remembering the biggest shot in history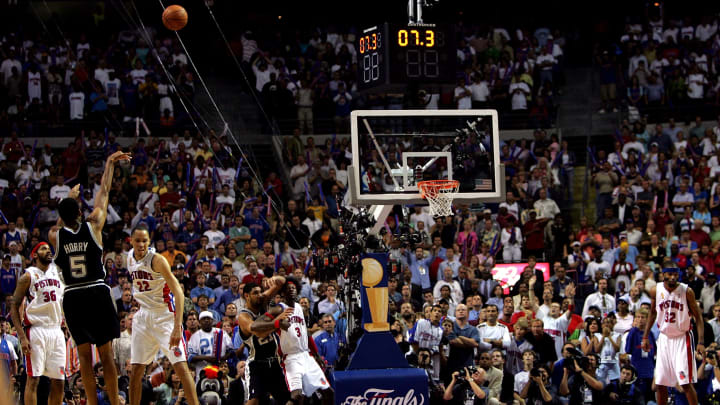 San Antonio Spurs Robert Horry / Ronald Martinez/Getty Images
If you were a fan of the San Antonio Spurs in 2005, Robert Horry undoubtedly holds a special place in your heart. His vintage 21-point performance on this day that year not only saved the Spurs from going down 3-2, but it also gave us the single biggest shot in franchise history.
It's no surprise that a man nicknamed Big Shot Bob came up so clutch in the most pressure-packed of situations. The only surprising thing about his massive shot is how a savvy veteran like Rasheed Wallace thought it'd be a good idea to leave him open.
I've previously used a three-criteria scale to argue why this shot is bigger in Spurs' history than Sean Elliott's Memorial Day Miracle. On the 16th anniversary of the shot heard around the Alamo City, I wanted to re-visit the iconic moment with some more commentary and recent thoughts on the performance from the man himself, Robert Horry.
The Epic seven-game San Antonio Spurs-Detroit Pistons series
While the 2005 NBA Finals were destined to be a classic battle for basketball purists who loved defense, the fact is the first four games were a snooze. The Spurs had blown at Detroit by an average of 18 points in their two home games while the Pistons did the same by an average of 24.
Fortunately, Game 5 turned out to be an instant classic, as the teams were knotted up at 89 apiece after regulation.
Robert Horry had already put in a stellar throwback performance leading into overtime, scoring 16 points. When he subbed in for Nazr Mohammed with 4:43 remaining in the extra period, he decided he would put the Spurs on his back for good.
With the Spurs on the ropes and down 95-91 with 1:25 remaining, Horry threw down one of the biggest dunks in playoff history. I find this play often gets lost in the performance given how he capped off the game, but it was an unbelievable play. He reflected on the throwdown earlier this year on The Jump:
In a May interview on the Dan Patrick Show this year, Robert went into more detail about why the dunk is one of his proudest moments in a cluster of huge shots.
"In 2005, my middle son was telling me, 'Dad, you don't dunk anymore.' In that game, when I went off, I had a really good dunk. That move had a special moment for me because of one of my kids said 'you don't dunk anymore' and then I did it on the biggest stage at the old age of 35."
While Horry would miss the free throw, he more than made up for it with 9.5 seconds remaining and the Spurs down two. Inbounding a corner pass to Manu Ginobili, he calmly stepped up to the wing to receive a pass back and nail the single greatest shot in franchise history. The shot gave San Antonio a 3-2 lead with two chances to close the series at home. They would do so in Game 7.
While the Spurs still would've had a shot to come back and win the NBA Finals if they dropped Game 5, that would've been a tall task against such a disciplined, talented Pistons squad. Happy 16th anniversary to Big Shot Bob's brilliant performance.