San Antonio Spurs: 10 Best Shooters in the 2021 NBA Draft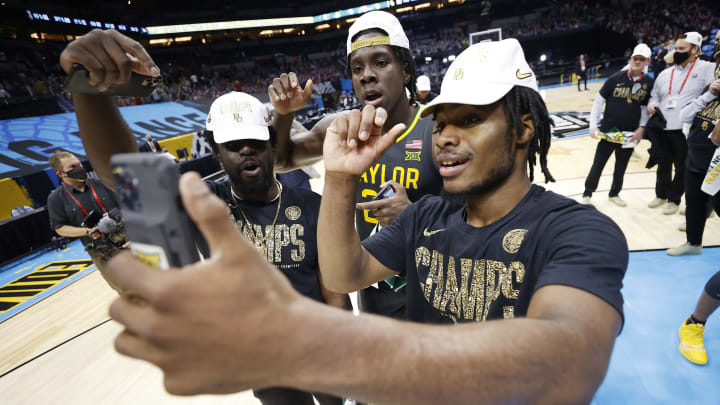 Davion Mitchell - Baylor v Gonzaga / Jamie Squire/Getty Images
San Antonio Spurs Draft Shooters 6 and 5
Baylor v Gonzaga / Jamie Squire/Getty Images
6. Davion Mitchell - Point Guard, Baylor
Statistically speaking, Davion Mitchell was one of, if not the best outside shooter in the entire NCAA last season, shooting about 44% from three on decently high volume. His performance in the NCAA tournament has skyrocketed his draft stock, with many mocks having him going in the top ten.
To me, he could be very reminiscent of a Derrick White/Patty Mills hybrid. He's one of the most abusive on-ball defending guards that I can recall from recent seasons and is very good at squaring his chest and taking charges. He has elite lateral quickness, a very good first step, and can sneak in quick layups before the rim defender has time to react.
If his shooting translates to the NBA, he could be a really good two-way point guard. Unfortunately though, I have some serious concerns about that actually coming to fruition. In his first two years in college basketball, he averaged about 31% from beyond the arc and only 67% from the free-throw line.
Seemingly out of nowhere, he managed to shoot about 13% better from three but actually saw his free-throw percentage drop by about 3%. Generally speaking, this is a glaring red flag, and players that have seen similar spikes in efficiency in their final year of college do not have a good track record when attempting to replicate that success in the NBA. To me, this move would be too risky for the Spurs.
---
Chris Duarte - Oregon v Iowa / Sarah Stier/Getty Images
5. Chris Duarte - Wing, Oregon
If it weren't for the fact that Chris Duarte is now 24 years old, he could have been as high as the number two player on this list, but he's still not that far off. Many have referred to Duarte as the Desmond Bane of this year's draft because he's a solid 3-and-D prospect being overlooked because of his age.
Duarte shot nearly 42% from beyond the arc and 46% on catch-and-shoot threes, all while playing stellar team defense. He is one of not very many that made it to both this list along with the first version of our official Spurs big board for this year's draft.
While he isn't exactly known for his on-ball defense like some other on this list, he's likely one of the best team defenders on the list. He was incredibly disruptive when the ball was being moved around on the court, recording nearly two steals per game. He has great instincts for rotations and help defense, and nearly recorded one block per game as well.