San Antonio Spurs: 10 Best Shooters in the 2021 NBA Draft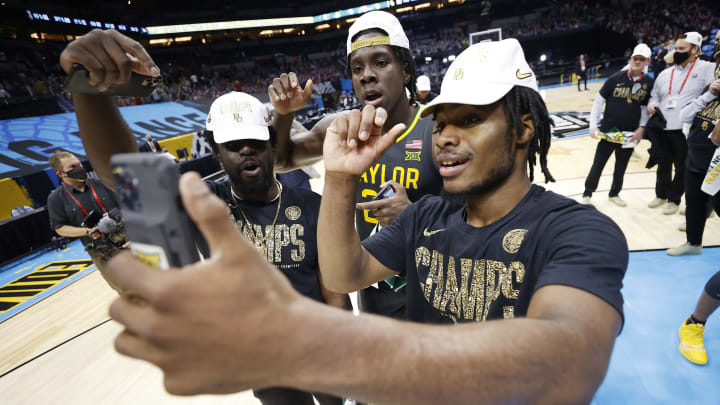 Davion Mitchell - Baylor v Gonzaga / Jamie Squire/Getty Images
San Antonio Spurs Draft Shooters 8 and 7
Isaiah Livers - Michigan State v Michigan / Gregory Shamus/Getty Images
8. Isaiah Livers - Wing, Michigan
Isaiah Livers is yet another player that I think could be very good if it weren't for a couple of lacking areas in his game.
Livers made about 43% of his threes and 87% of his free throws on relatively high volume and has deep range. For being 230 pounds, he also has surprisingly powerful verticality and had a few glimpses of some thunderous finishes above the rim.
What is holding Livers back from being higher on this list is that he'll be turning 23 this coming July, recently suffered an injury that kept him out of the entire NCAA tournament and the fact that he's laterally slow. Even if he manages to stay healthy and remain on the court, he will likely be abused by smaller, faster guards on switches. Him being 23 already does not exactly help his trajectory in the league either, and while he has a decently high floor, his ceiling is quite low.
---
Quentin Grimes - NCAA Men's Basketball Tournament - Final Four - Practice Sessions / Jamie Squire/Getty Images
7. Quentin Grimes - Wing, Houston
Quentin Grimes absolutely shot the lights out of every building he played in this past season. He was one of only three players in the NCAA this past season (to my knowledge) that was able to sink 100 three-point shots.
Even with shooting such high volume though, he remained very efficient, shooting 40% from three overall and a very impressive 42% on pull-up threes, which was among the best in college basketball. The reason that he took so many threes though, apart from the fact that he was making them, was that not-so-good things begin to happen when he puts the ball on the floor.
Houston played a lot of man-to-man defense this past season, and Grimes was also able to show off his capabilities on that end of the floor. His instincts when defending the ball-handler caused a lot of problems for other teams and he could turn out to be a force on that end of the floor if it translates.
His development will entirely hinge on him improving his ball-handling skills, being able to hit pull-up shots in the midrange, and him becoming a better finisher at the rim. While this is far from impossible for him to accomplish, given that he's already 21, he'll be coming into draft night older and less versatile on offense than many in front of him.