San Antonio Spurs: 10 Best Shooters in the 2021 NBA Draft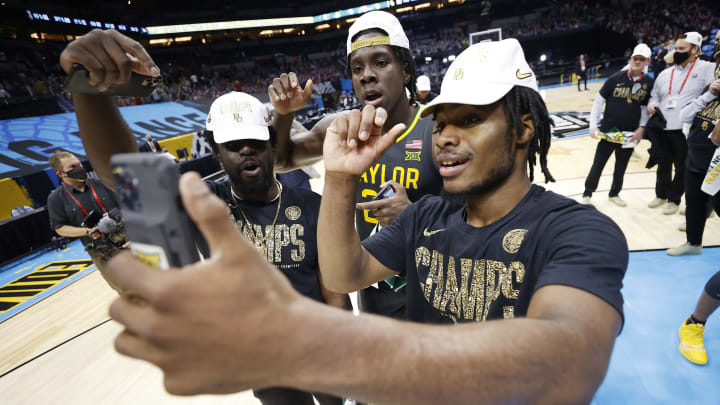 Davion Mitchell - Baylor v Gonzaga / Jamie Squire/Getty Images
San Antonio Spurs Draft Shooters 10 and 9
Miles McBride - Syracuse v West Virginia / Sarah Stier/Getty Images
10. Miles "Deuce" McBride - Combo Guard, West Virginia
Seeing that many mock drafts have Deuce McBride going in the second round, he would be a very interesting option for the Spurs with their 41st pick, particularly if Patty Mills moves on from the team.
Despite being a bit undersized, McBride has shown that he could be a very effective and versatile scorer. He's a strong finisher for his size, has a bit of a midrange pull-up game, and most notably, shot about 41% from three-point land this past season. While that percentage is on the lowest volume of all players on this list, the fact that he's a capable scorer in the midrange and near the bucket, along with the fact that he's a good passer, makes me believe his shot can translate.
That said, what makes him all the more interesting is that he's an absolute dog of an on-ball defender. This is ultimately the skill that landed him on this list given his underwhelming size.
---
Trey Murphy III - Ohio v Virginia / Stacy Revere/Getty Images
9. Trey Murphy III - Wing, Virgina
I want to like Trey Murphy a lot, and while I like his chances of being a great shooter, the other areas of his game disappointed me.
Don't get me wrong, I like the fact that he shot an absurd 93% from the free-throw line, and drilled 44% of his catch-and-shoot threes. Being that he's 6'9" with a reported 7'1" wingspan, that makes those numbers all the more impressive. He's also a versatile defender and deserves praise for what he can do on that end of the floor.
After that though, things start to go downhill. He also shot threes and free throws on very low volume compared to others on this list, has basically no semblance of a pull-up game, and is an absolutely abysmal rebounder for his size. At best, I see him as a 3-and-D role player that's decent overall but is also as a black hole in terms of rebounding, which I don't think the Spurs can afford for the time being, particularly at his position.