San Antonio Spurs: 10 Best Shooters in the 2021 NBA Draft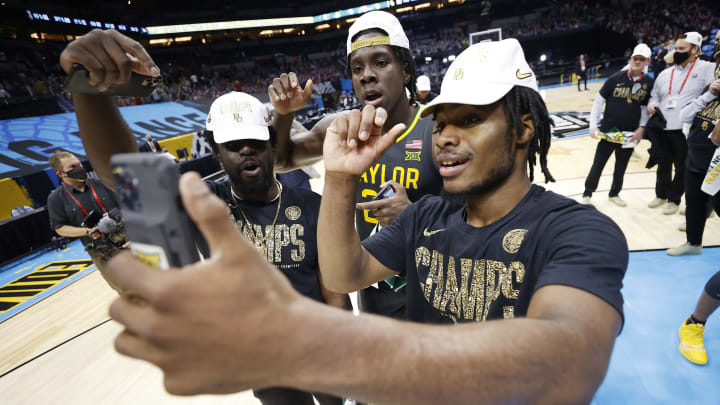 Davion Mitchell - Baylor v Gonzaga / Jamie Squire/Getty Images
If anything was made clear about the current San Antonio Spurs team this past season, it's that they need shooters quite badly. Statistically, the Spurs were one of the poorest-shooting teams this past season while also coming dead last in three-point attempts per game. While several of the Spurs young players are still young and could develop better shooting skills from deep, in the modern NBA, that might not be enough.
Thankfully, the upcoming 2021 NBA Draft has several potential candidates that the Spurs may look at to bring more outside shooting to the team. In fact, the upcoming draft class is so filled with talent that it's very possible, if not likely, that some good shooters will fall to the second round of the draft.
With that in mind though, the Spurs still need a lot more than just shooting. With the possibility of Rudy Gay, DeMar DeRozan, and Trey Lyles all leaving the team in the offseason, Luka Samanic could quite possibly be the team's only remaining true power forward by the beginning of next season, barring any free-agent acquisitions during the summer. As a team, the Spurs are also lacking in both facilitating and rebounding.
Here, we've compiled a list of the top ten shooters in the draft that the Spurs will need to keep a lookout for on draft night. That said, while this list of prospects primarily focuses on shooters, this can be seen as a "big board" of sorts in that other factors are taken into account outside of just their shooting numbers.
In other words, if outside scoring is the only thing that a given prospect would be able to bring to the table for the Spurs, or they have some significant downside, they won't make it very high on this list. For this reason, several very good outside shooters like Tre Mann, Max Abmas, and Matthew Hurt all did not manage to make it to the top ten. These ten players can provide the Spurs with more outside shooting and potentially help to address some of the team's other needs.