San Antonio Spurs: Ranking 5 best 2021 All-Big 12 players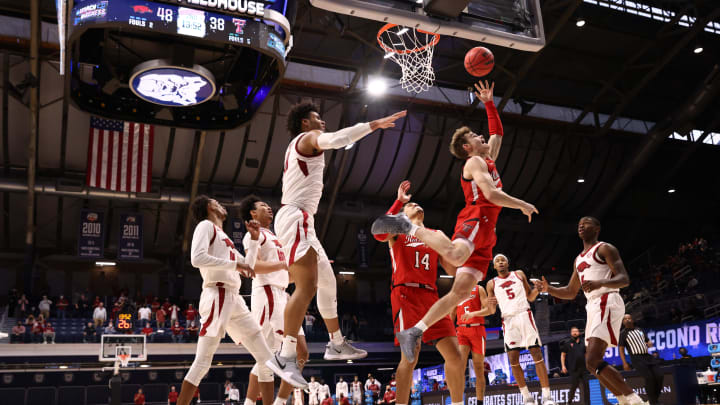 Mac McClung / Gregory Shamus/Getty Images
Mac McClung / Stacy Revere/Getty Images
5. Mac McClung - Guard, Texas Tech
Mac McClung declared for the 2021 NBA Draft and, frankly, I think that was a horrible idea for him. McClung can potentially have a great career in Europe or China, but he's going to have an incredibly difficult time surviving in the NBA.
He relies too much on drawing fouls, and while he is a great free-throw shooter, only first options and primary ball handlers can afford to play that style of basketball. Otherwise, he plays a style of basketball that is not considered valuable in the modern NBA. He will likely have a very limited role on whatever team decides to take a chance on him, and he could spend significant time in the G-League.
He's an inconsistent shooter from three (at best) and relies too heavily on drawing contact at the rim. He is not a pass-first guard, which means he'll have to play shooting guard, but he's also undersized at 6-2 and 180 pounds. On top of that, his size will probably always make him a defensive liability.
McClung made a name for himself on YouTube highlight reels because he has an impressive vertical leap, but his size severely limits its impact. Rather than focusing on developing useful NBA tools, he's too focused on scoring at a high clip. Given that he only averaged 2.2 assists in his college career, he won't be able to reliably play as a point guard, and he'll be undersized playing as a scoring guard.
He does not project as a player that the Spurs would typically be interested in; his defense is unfocused and lazy, and his offensive IQ is questionable at best. He would not fulfill any of the team's needs and his NBA ceiling is low. Even at the 41st pick, the Spurs should pass on him.