San Antonio Spurs Free Agency
San Antonio Spurs: 2 Pros and cons to pursuing Bobby Portis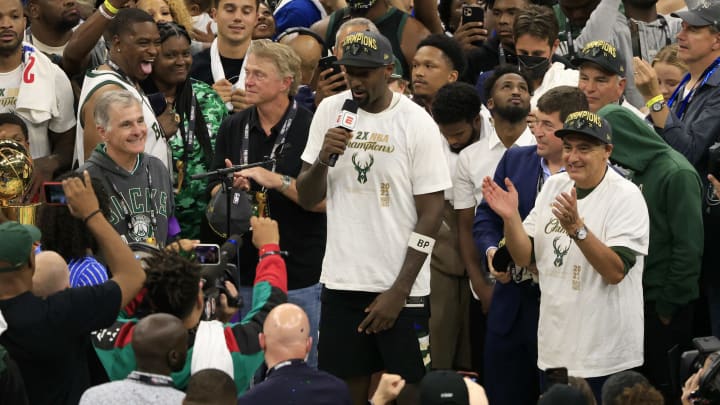 Bobby Portis - 2021 NBA Finals - Game Six / Justin Casterline/Getty Images
Bobby Portis - 2021 NBA Finals - Game Four / Jonathan Daniel/Getty Images
Cons of the San Antonio Spurs signing Bobby Portis
Mediocre Defense
For being 6'10" tall with a 7'2" wingspan, one would think that Portis is a good defender. While I wouldn't go so far as to call him a bad defender, he is mediocre at best. Particularly when it comes to rim protection, Portis only recorded 0.8 blocks per game this past season. On the perimeter, he isn't particularly fast on his feet and more than likely won't be able to switch onto smaller guards without having quite a bit of trouble.
Given that the Spurs are already not one of the best defensive teams in the league, adding a player that is average to slightly below average will probably only exacerbate that problem. That being said, if the team could compensate for this by drafting a couple of talented defensive prospects in the draft, they could quickly make up for his shortcomings.
Overpaying
While the Spurs will have plenty of cap space to work with this offseason, I worry about the price tag that will come with acquiring Portis from the Bucks. There's also a chance that he won't leave the Bucks, to begin with, as he noted that joining a winning culture is what ultimately led him to sign with them.
With how he performed in the Playoffs and the Finals, I fully expect the Bucks to do everything they can to get him to stay, including giving him a better contract. Floor spacing is key for the Bucks to make Giannis Antetokounmpo's life easier on the court, so if they can, it would make a lot of sense for the team to retain Portis. While he could be good for the Spurs, given that contract renewals will be coming up in the next couple of offseasons for the Spurs' young players, I want them to avoid overpaying role players at all costs.
Ultimately, though, Portis could be a fantastic option for the Spurs, particularly if they miss out on John Collins in restricted free agency. If the Spurs decide to go after him, I would be pleased with that decision.