San Antonio Spurs Free Agency
San Antonio Spurs: 2 Pros and cons to pursuing Bobby Portis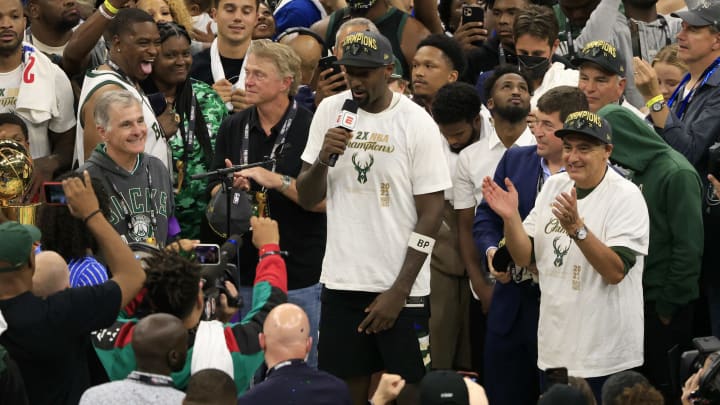 Bobby Portis - 2021 NBA Finals - Game Six / Justin Casterline/Getty Images
Bobby Portis - 2021 NBA Finals - Game Five / Christian Petersen/Getty Images
Pros of the San Antonio Spurs signing Bobby Portis
Shooting and Rebounding
The Spurs have a gap in skill in a few areas on both sides of the floor, but shooting and rebounding are probably two of the most obvious ones. They were 24th in the league in team three-point percentage, second to last in three-pointers made, and 18th in rebounds per game this past season. That is a very bad combination to have for winning basketball games.
Thankfully, Portis addresses both of these issues. He was the third most efficient three-point shooter in the league, only trailing Marcus Morris and Joe Harris, and averaged 7.1 rebounds in only about 21 minutes per game. Given that he would also be a great fit in the Spurs' frontcourt, on paper, this fills a lot of the team's needs all packaged in one player.
Playoff and Championship Experience
There is also a good chance that the Spurs will have very few veteran players left on the team once free agency is all said and done. DeMar DeRozan, Rudy Gay, and Patty Mills will all be coming off the books and the Spurs will have a lot of money to work with.
Portis is only 25 years old, which makes him only one year older than Dejounte Murray and one year younger than Derrick White. Even so, he now has significant playoff experience and knows what it takes for a team to win a championship. Not only that, but Portis was an integral part of his championship team and played quite well in the playoffs. In their winning effort in Game 6, Portis recorded 16 points, 3 rebounds, and 1 block. For a role player, that's probably well beyond what any playoff team could ask of him.