San Antonio Spurs: Honoring Big 3 Day with their best games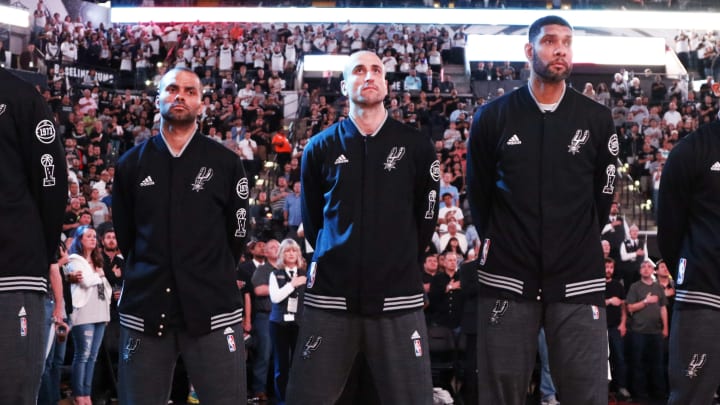 Tony Parker, Manu Ginobili, Tim Duncan / Ronald Cortes/Getty Images
Tim Duncan / Jed Jacobsohn/Getty Images
San Antonio Spurs: Tim Duncan's Biggest Game
When you're talking about one of the greatest basketball players of all time, it's hard to narrow their performances down to just one outstanding game. Luckily, I've already covered Tim Duncan's best game in every season of his legendary career.
While Duncan's 53-point, 11-rebound game against Dallas in 2001 was easily his best scoring effort, there's another game that established him as the best player in the world and came at the most crucial time.
With the San Antonio Spurs seeking their second title in the 2003 NBA Finals, they faced a potential Game 7 scenario with the New Jersey Nets if they were to lose Game 6 at home. While Jason Kidd and Company made it interesting for a while, Tim Duncan wasn't too be denied in the closeout opportunity.
While Duncan's nine made field goals were par for the course, it was his overall body of work that showed he was at his peak, and that spelled trouble for the league. At the game's end, Duncan had 21 points, 20 rebounds, 10 assists, and eight blocks.
As YouTuber The Big Kiwi shared years later in a video, it's very likely Duncan actually had 10 blocks in the game, meaning he should've been awarded a quadruple-double -- IN THE NBA FINALS. "Whoever was keeping track of the statistics for the game made two bad judgments on plays that should've been pretty easy to call by most standards," he says in the video.
Duncan's 2003 season was one of the best by an individual player in NBA history, as he won NBA MVP, Finals MVP, made the First Teams of both All-NBA and All-Defensive categories, and won an NBA title.
Happy Big Three Day, San Antonio.