San Antonio Spurs: Honoring Big 3 Day with their best games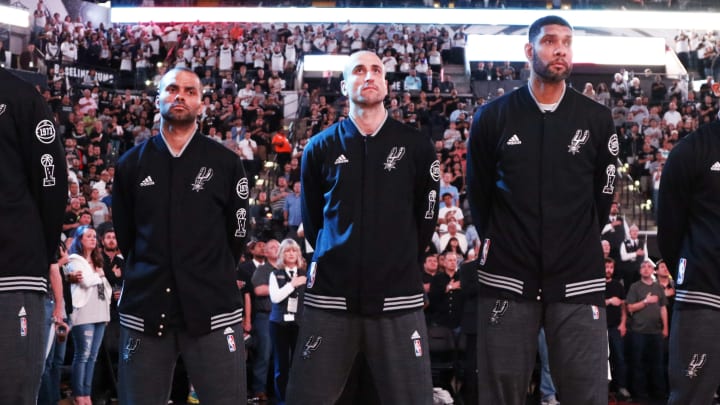 Tony Parker, Manu Ginobili, Tim Duncan / Ronald Cortes/Getty Images
NBA Finals Game 6: Detroit Pistons v San Antonio Spurs / Ronald Martinez/Getty Images
San Antonio Spurs: Manu Ginobili's Biggest Game
Although his selfless sacrifice of a starting role probably prevented several more All-Star appearances, Manu Ginobili undoubtedly had a style of play the NBA has never seen. Using his flare, craftiness, and unmatched intensity in every minute of his nearly 33,000 played, he became one of the most beloved people in San Antonio by the time he retired in 2018.
Most people best remember Manu for his performance in the 2005 NBA Finals against Detroit, one in which he easily could've taken home a Finals MVP award. While some of those games could fit the bill as his most important game, it was a stat-filled game in Phoenix during that regular season that stands out above all else.
In January 2005, the Spurs and Suns faced off in a battle of heavyweights at America West Arena. San Antonio went in boasting a 32-9 record while Phoenix was 31-9 for a combined 77.7% winning mark.
The battle was even better than advertised, as Phoenix's one-two punch of Shawn Marion and Amar'e Stoudemire both carried the Suns while Tim Duncan and Manu Ginobili paced the Spurs to a tie after four quarters.
On a night in which he played almost 44 minutes, Manu somehow found the energy to throw down a powerful two-handed dunk in overtime, adding another long jumper and free throw to finally put Phoenix away.
The Spurs won 128-123 with Ginobili scoring 48 points on 16-of-22 shooting and 11-of-12 from the free throw line. The two teams met in the Western Conference Finals, where San Antonio only needed five games to prove they were the best team in the Western Conference -- and, ultimately, the NBA.