The Spurs need a big man of the future, and it's not Jakob Poeltl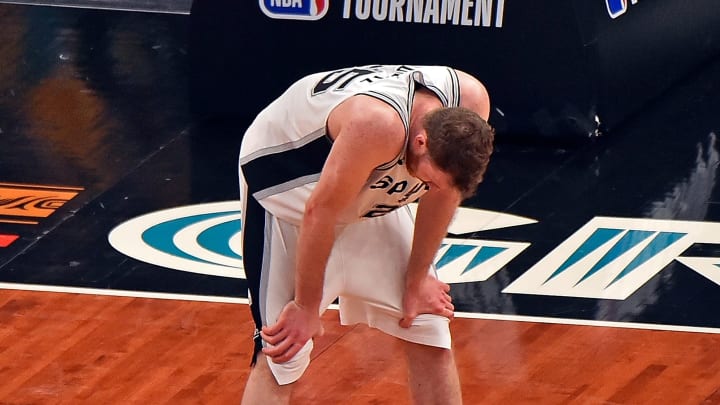 San Antonio Spurs Jakob Poeltl / Justin Ford/Getty Images
Kai Jones / Jamie Squire/Getty Images
Where can the Spurs find their big man of the future this offseason?
Skilled bigs are quickly becoming the norm in the NBA, not the exception. As a result, we're seeing more bigs with perimeter skill become available in recent years, which should inspire Spurs fans to have fever dreams of a unicorn-type player landing in San Antonio.
In free agency this offseason, there will be plenty of prayer circles around a potential John Collins max offer sheet, with visions of athletic lobs and corner threes that would be a welcome addition.
Fans will fire up trade machines as rumors ramp up again around stars in unstable situations — I can't wait for all the intricate trades shipping Myles Turner or Domantas Sabonis to the 210. (Granted, this route could be expensive and painful by way of giving up multiple picks and promising players.)
The 2021 NBA Draft features an elite big man prospect in Evan Mobley, equipped with a premier all-around game and low-key demeanor Spurs fans would fall in love with. (C'mon, basketball Gods. Please?) 
Even outside of Mobley, guys like Kai Jones, Alperen Şengün, and Usman Garuba offer enticing skills in different packages. All should be available around the 12th pick if the Spurs don't move up in the lottery and you can picture any one of them flourishing in the Spurs' development program.
Coach Popovich and the front office have done an admirable job adding quality perimeter talent with mid-to-late first-round picks over the years. Now, it's time to invest big to find the glue in the middle that will hold those pieces together and empower them to thrive in larger roles.