The Spurs need a big man of the future, and it's not Jakob Poeltl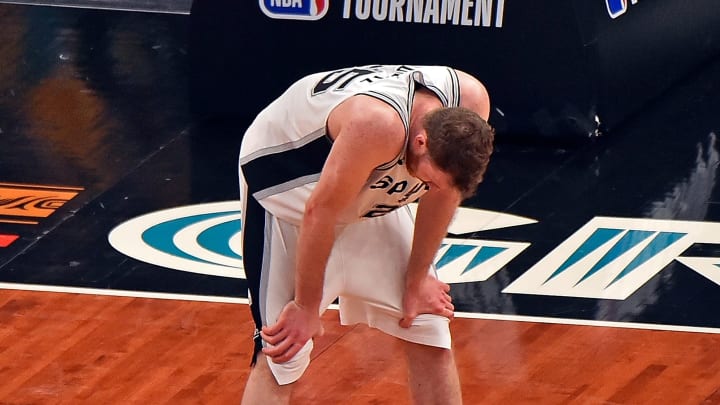 San Antonio Spurs Jakob Poeltl / Justin Ford/Getty Images
Jakob Poeltl / Alex Menendez/Getty Images
Jakob Poeltl isn't the long-term answer as the Spurs' starting center
While I thoroughly enjoyed seeing Jakob Poeltl's progress throughout the 2020-21 campaign, all the Bill Land-patented "POELTL JAM" calls in the world can't make up for the fact that the Austrian seven-footer caps the Spurs' offensive ceiling going forward.
Put aside the fact that he shot 32 percent from the free throw line before the All-Star break — I give him credit for bumping that up to the mid-60s after Pop challenged him.
And yes, the value he adds on defense is wildly underrated. He finished top-five league-wide in blocks per game and is one of a handful of bigs his size who can soundly navigate defending on the perimeter enough to avoid being exploited on switches.
But all of those pluses went out the window when the Spurs faced a do-or-die matchup against Memphis — a microcosm of a world of problems in the Spurs' future if things go unaddressed. Grizzlies center Jonas Valanciunas feasted on the inside, gobbling up rebounds and just generally beating the crap out of any Spur in his way.
There was nothing the Silver and Black could do, really. On offense, with a dearth of knockdown outside shooters, spacing was nowhere to be found.
There were no wrinkles that worried the Grizz defenders enough to drag them out of the paint, mostly because Jak's utility on offense starts and ends with screens and bunnies.
In fact in the fourth quarter, despite getting in early foul trouble, Gorgui Dieng provided the best big man minutes on offense all game, helping key a run that tied up the score. All of a sudden, Memphis' bigs had to account for someone who could stretch the floor, opening up opportunities for others to attack.
Look at some of the best teams in the league. The extinction of bigs is largely overblown — it's an evolution. The Sixers, Bucks, Lakers, Suns, and Nuggets all feature dynamic big men with skills that give defenses an array of problems to solve.
The San Antonio Spurs' roster is missing this crucial piece. Unless Jakob adds a reliable jump shot, he is best suited as your first big off the bench. His reasonable contract matches up with that role.
Luckily for the Spurs faithful, there are options to fantasize about this offseason.