Spurs Merchandise
San Antonio Spurs fans need this limited edition Tim Duncan bobblehead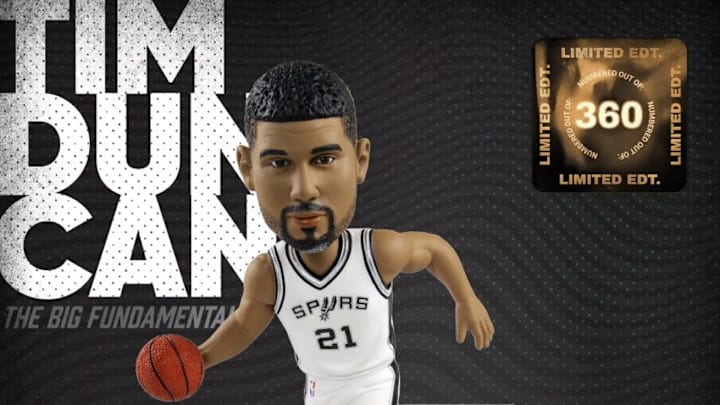 For San Antonio Spurs fans, Tim Duncan is royalty. He led the Spurs to five NBA Championships, was a two-time MVP and a 15-time All-Star.
Which is why Spurs fans are going to want to take a look at the newest bobblehead from our friends at FOCO – featuring The Big Fundamental himself.
Check it out below.
FOCO
Tim Duncan is one of basketball's all-time greats. One of basketball's all-time greats deserves an all-time great bobblehead. This Tim Duncan San Antonio Spurs Big Fundamental Bobblehead is just that.
Portrays Duncan in an action pose, about to make another highlight reel play
Team logo-inspired name backdrop with jersey number display so everyone knows who the face of your franchise is
Jersey number display on reverse side of backdrop, even though we know he's number one in your heart
Basketball court top of base with profile of Duncan?s career stats and achievements (and there were a lot of them)
The Big Fundamental text display on front of base, making this bobblehead fundamentally awesome
Handcrafted
Hand painted
Approx. 8 inches tall
Individually numbered to 360
Don't wait on this – because it is extremely limited. Get your pre-order in today for $50 and it will ship out to you no later than 9/21/20.