San Antonio Spurs Draft
2018 NBA Draft Lottery live stream: How to watch online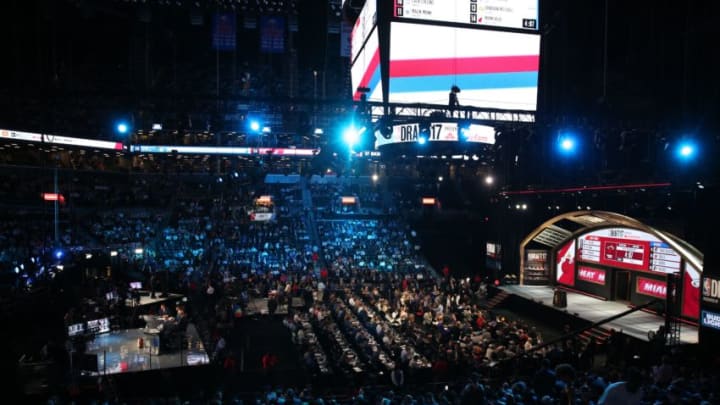 NEW YORK, USA - JUNE 22: A general view of Barclays Center during NBA Draft 2017 in Brooklyn borough of New York, United States on June 22, 2017. (Photo by Mohammed Elshamy/Anadolu Agency/Getty Images) /
A look at how to watch the 2018 NBA Draft Lottery online, which emanates from the Palmer House Hilton in Chicago, IL.
After weeks of speculation on the order for the 2018 NBA Draft's first 14 picks, the dust will settle on Tuesday night, as the lottery show will take place from Chicago, IL. It determines who receives the No. 1 overall pick in June, along with No. 2, 3, 4, 5, 6 and on.
The San Antonio Spurs will not be involved in the lottery, and they do not have an extensive history in this portion of the draft process. Instead, the Silver and Black will have the No. 18 pick, just spots outside of the lottery; that's if the pick does not get traded before or on draft night.
Here are the five teams with the greatest odds for the No. 1 overall pick, which is based on record and tiebreakers:
Phoenix Suns: 25 percent
Memphis Grizzlies: 19.9 percent
Dallas Mavericks: 13.8 percent
Atlanta Hawks: 13.7 percent
Orlando Magic: 8.8 percent
Next: 2018 Mock Draft: SAS edition
Details on how to watch the 2018 NBA Draft Lottery are below. This includes the start time, TV info, live stream and more:
Date: Tuesday, May 15Time: 7:30 p.m. ETLocation: Chicago, ILVenue: Palmer House HiltonTV info: ESPNLive stream: WatchESPN
ESPN will broadcast this live before the Eastern Conference Finals. WatchESPN, for those who will not have access to cable, can watch it online. It's a short show, so there won't be too much time needed to see who grabs the top picks.
Tuesday is one of the NBA's most interesting nights of the year. It kicks off the draft hype and gets fans one step closer to the actual show. Who will receive the No. 1 overall selection?