San Antonio Spurs News
San Antonio Spurs: Statement issued on Rasual Butler's death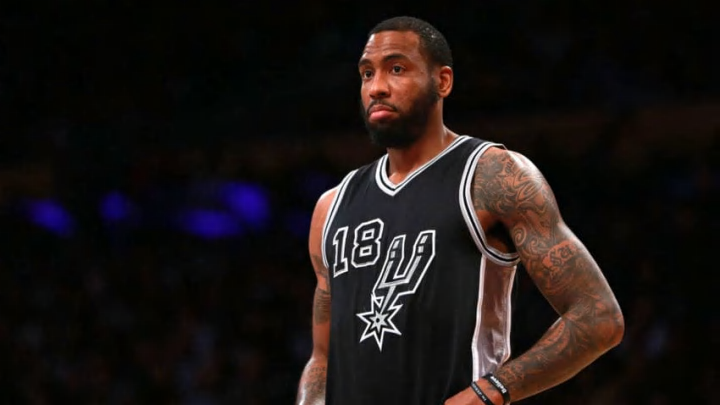 LOS ANGELES, CA - JANUARY 22: Rasual Butler #18 of the San Antonio Spurs looks on during the NBA game against the Los Angeles Lakers at Staples Center on January 22, 2016 in Los Angeles, California. The Spurs defeated the Lakers 108 - 95. NOTE TO USER: User expressly acknowledges and agrees that, by downloading and or using this photograph, User is consenting to the terms and conditions of the Getty Images License Agreement. (Photo by Victor Decolongon/Getty Images) /
The San Antonio Spurs issued a statement on Rasual Butler and Leah LaBelle, both of whom passed away from a single-vehicle crash on Wednesday morning.
According to TMZ, on Wednesday morning, at 2:00 a.m., Rasual Butler, formerly of the San Antonio Spurs, and his wife, Leah LaBelle, passed away in a single-vehicle crash. The incident took place in Studio City, CA.
Throughout the day, current and former NBA players remembered Butler, along with Spurs players. These figures played with Butler across his 13 seasons in the Association, including a brief stint in the Big 3 League.
Given Butler's time with San Antonio, the organization issued a statement on his and LaBell's passing. His "positive attitude, professionalism and warm smile" were mentioned.
— San Antonio Spurs (@spurs) January 31, 2018
Butler played in the NBA from 2002-16, with the Spurs as his most recent team. He averaged 2.7 points and 1.2 rebounds on 41.1 percent shooting in 46 games.
Prior to the Silver and Black, Butler played for the Miami Heat, New Orleans/Oklahoma City Hornets, Los Angeles Clippers, Chicago Bulls, Toronto Raptors, Indiana Pacers and Washington Wizards in his 13 seasons. He had a career-high 11.9 points for the Clippers in the 2009-10 season, along with his second-highest mark of 64 games started (74 was his career-high in 2008-09).
In 2017, Butler played for the Ball Hogs in the inaugural season of the Big 3 League. Among his teammates were Brian Scalabrine, Josh Childress, Bobby Simmons, Desmond Farmer and Derrick Byars and Xavier Silas.
Next: Top 25 players in Spurs history
Butler's 13-year career will be remembered by everyone in the NBA today. We send our condolences to his and LaBelle's families.