San Antonio Spurs News
San Antonio Spurs: A vote of confidence in Bryn Forbes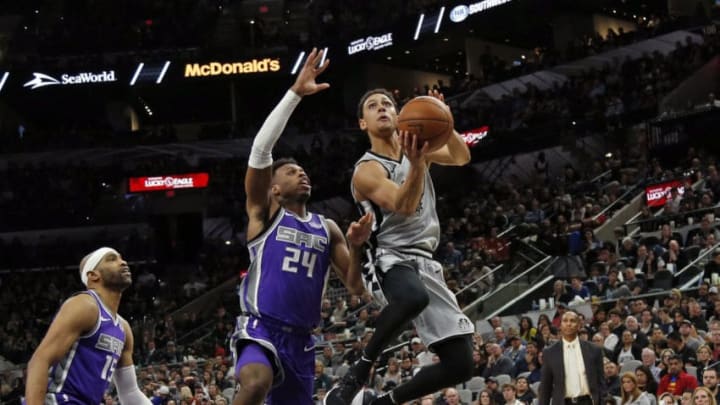 SAN ANTONIO,TX - JANUARY 28 : Bryn Forbes /
Sunday night was all about Bryn Forbes, who San Antonio Spurs head coach Gregg Popovich let play for most of the second half.
Amidst injuries and rest, Bryn Forbes, for most of the San Antonio Spurs' 2017-18 season, received the opportunity to play a heavier dose of minutes and even start a game or two. This mostly happened during Danny Green's groin-strain absence.
Once the Spurs get healthy (if they ever will), Forbes seemed like one player that would be on the short end of the playing-time stick, especially with Green, Manu Ginobili, Tony Parker, Dejounte Murray and Patty Mills all part of the guard rotation. Walking out of Sunday's game vs. the Sacramento Kings, however, the Michigan State product more than proved he belonged.
It was a career night for Forbes, or one of his best performance since entering the NBA. He threw up 23 points in 27 minutes, shooting 8-for-15 from the field and 5-for-8 from 3-point range. This was not the most impressive part of his night, though, as head coach Gregg Popovich chose to play the second-year guard over Green in the second half, which, according to Jeff McDonald of the San Antonio Express-News, had nothing to do with an injury:
Danny Green did not play a second of the second half. Did he re-injure something, Pop? "Nope. I played Bryn instead."
— Jeff McDonald (@JMcDonald_SAEN) January 29, 2018
A mighty vote of confidence from Popovich, who turned 69-years-old on Sunday. His young shooting guard delivered and potentially earned more opportunities like this, which happened after the Silver and Black struggled to score over the past few weeks. That included a 3-for-24 3-point shooting performance vs. the Philadelphia 76ers.
Hey, maybe this even pushed Forbes up Ginobili's son's list of favorite players. He was one spot behind some player named Michael Jordan, so…
-Luca (3yo son):My favorite players are :1. Danny Green2. Vince Carter3. Michael Jordan4. Bryn5. Lamarcus. ??And you sixth, dad. ????
— Manu Ginobili (@manuginobili) January 26, 2018
Next: Top 25 players in Spurs history
Even with Ginobili back, Popovich chose a younger direction at shooting guard and it paid off. Now, let's see what sticks and what will not on Tuesday, when the Spurs face the Denver Nuggets,