San Antonio Spurs News
San Antonio Spurs: A poor 3-point shooting night by the numbers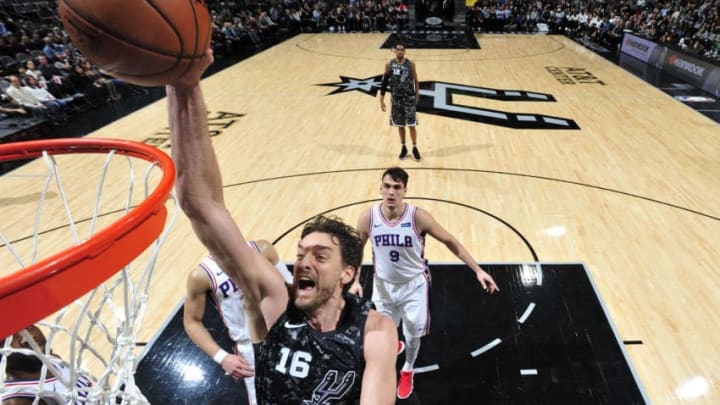 SAN ANTONIO, TX - JANUARY 26: Pau Gasol /
A rough shooting night cost the San Antonio Spurs on Friday night. Just how bad were the numbers, though?
In a rare instance, the San Antonio Spurs dropped a home game, to the Philadelphia 76ers, 97-78. It was a double-digit point deficit for most of the second half, with the Silver and Black failing to break through and avoid one of their few losses at the AT&T Center.
A reason for this night? Poor shooting. Maybe not even poor, but a season-low performance from the starting lineup and rotation.
Just how bad was this night? The Spurs shot 3-for-24 from 3-point range, or 12.5 percent. According to Basketball-Reference, this was the team's second-worst shooting performance of the season, at least for the average from behind the 3-point line. The worst happened vs. the Chicago Bulls, when the Spurs went just 1-for-12 from behind the arc, but in a victory. So, Friday night's performance may be justified as their lowest shooting outing of the 2017-18 season.
The low 3-point number was from more than one player, too. It began with the starters and worked its way down:
Davis Bertans: 1-for-6
Danny Green: 0-for-5
Patty Mills: 0-for-3
LaMarcus Aldridge: 0-for-1
Pau Gasol: 0-for-1
Aside from Bertans, Bryn Forbes was the only other player to hit a 3-pointer; he went 2-for-5 from long distance.
Of course nights like this will not always happen, especially when the 76ers shot 48.1 percent from the field and 42.9 percent from 3-point range. However, San Antonio could not overcome the defensive prowess of players like Joel Embiid, Trevor Booker and the length others brought to the table.
Next: Top 25 players in Spurs history
The Spurs have until Sunday night to shake this off, when they face the Sacramento Kings. It's the second of a five-game homestand. Will the team from the Alamo City return with strong shooting numbers?