San Antonio Spurs News
Spurs topple depleted Clippers, 109-91: Recap, highlights, and more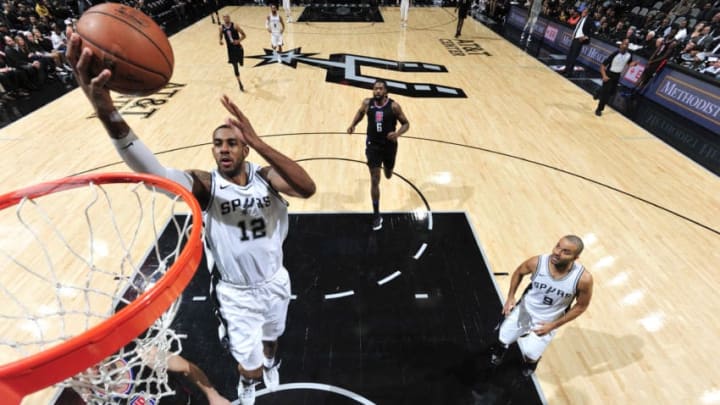 SAN ANTONIO, TX - DECEMBER 18: LaMarcus Aldridge /
The San Antonio Spurs knocked off the Los Angeles Clippers Wednesday night in a contest that was more lopsided than the final score indicates.
The Clippers have given the Spurs a lot of trouble in recent years, but this rendition of the team barely resembles the Western Conference powerhouse that seemed just a piece or two away from the championship for most of the last five years. Even further, it's a shadow of the team it started the season. Blake Griffin, Lou Williams, and Wesley Johnson were all absent with injuries Wednesday night, leaving a shell of a team for the Spurs to pick on. Ultimately, the game played out like you would expect, and the Spurs trounced the Clippers 109-91 in a game that felt far more uneven than the final score indicates.
The Spurs jumped out to an early lead, leading 31-17 at the end of the first quarter, but the Clippers made a run leading up to halftime and early in the third quarter to cut the deficit to two. Several dazzling passes from Manu Ginobili later, the Spurs had regained the lead and San Antonio kept Los Angeles at bay by around 15 points for the remainder of the game as the Clippers simply ran out of gas.
San Antonio capitalized on the Clippers turnovers, scoring a season-high 29 points off turnovers, and outscored the Clippers 20-8 from the free throw line. The Clippers defense was completely out of sorts, and gave up a ridiculous amount of open shots, but the Spurs shot 9-24 from beyond the arc as their struggles from the arc continued, limiting the impact of the Clippers subpar defense on the box score.
LaMarcus Aldridge, yet again, led the Spurs with 19 points and 8 rebounds and Tony Parker added 16 of his own on 7-9 shooting. Rudy Gay had a strong game off the bench, and Ginobili added 5 assists and a jolt of energy as the floor general for the second unit, despite shooting 0-5 on wide-open 3-pointers. Kawhi Leonard, still on a minutes restriction, continued to look rusty and scored only 7 points in 16 minutes of action.
DeAndre Jordan led the Clippers with 13 points and 14 rebounds, while Jamil Wilson and Austin Rivers added 12 and 11, respectively.
Next: Top 25 players in Spurs history
The Spurs will look to extend the win streak to three on Wednesday against the Trailblazers. Game time is 9:00 PM CST.