San Antonio Spurs News
Spurs get game-winner from Manu Ginobili vs. Mavericks: Recap, highlights and more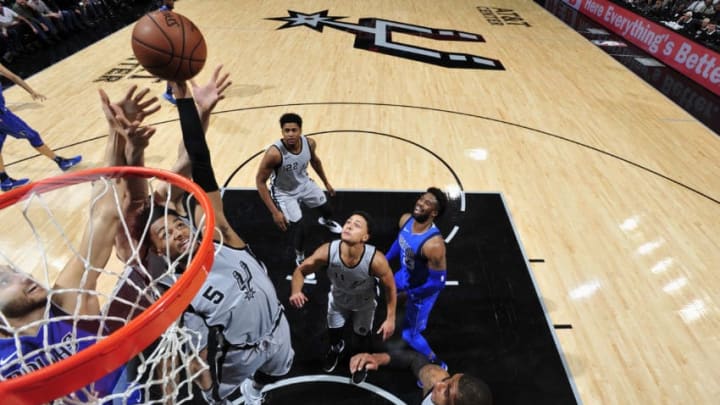 ANTONIO, TX - DECEMBER 16: Dejounte Murray /
The San Antonio Spurs overcame an 11-point deficit to stun the Dallas Mavericks at home.
Entering Saturday night's game against the Dallas Mavericks, the San Antonio Spurs dropped two consecutive games. It looked to end this skid, with the potential for it to reach the level of the four-game losing streak from earlier this season.
The Spurs were short-handed, again, for this game. None of Tony Parker, Kawhi Leonard or Danny Green played, whether it was due to resting previous ailments (Parker and Leonard) or being injured (Green). This allowed players the younger players to pick up extra time, along with the call-ups of Darrun Hilliard and Derrick White from the G-League.
Like the Houston Rockets game, San Antonio fell behind by double digits after the first quarter, 31-18. A sense of déjà vu, it set the Spurs back, but this time they clawed some points off the lead in the second and third quarters.
As the game wore on, the Spurs never faced a blowout deficit but couldn't climb past five or six points. It stretched to 11 points in the final few minutes, but dropped to just 2 points in the final minute, making for a remarkable comeback that Dejounte Murray and LaMarcus Aldridge piloted. They tied it up in the final seconds and secured a win after Manu Ginobili hit a game-winning 2-point shot to win 98-96.
The Spurs had four players top double-digit points, with Aldridge's 22 leading the way. He added 14 rebounds to pull off a double-double.
Dejounte Murray, who received the start for Parker, had 14 points, 6 rebounds and 4 assists in just over 20 minutes. It was an efficient 6-for-11 shooting from the field. This was one of Murray's best games of the past month, as he fights for minutes when the team gets healthy.
As for the Mavericks, they also had four players in double-digits. Maximilian Kleiber's 21 points led the way, along with 19 points from Dirk Nowitzki to carry a lopsided effort from the starting lineup and the bench.
This win ended the Spurs' two-game skid, before heading into an off day. The late-game push should give them some momentum. Especially after the blowout loss vs. the Rockets and missing Leonard, Parker and Green on Saturday night.
Next: Top 25 players in Spurs history
The Spurs return to the court on Monday, Dec. 18 vs. Los Angeles Clippers at 8:30 p.m. ET.