San Antonio Spurs News
San Antonio Spurs: The 'Force' was not with Silver and Black vs. Rockets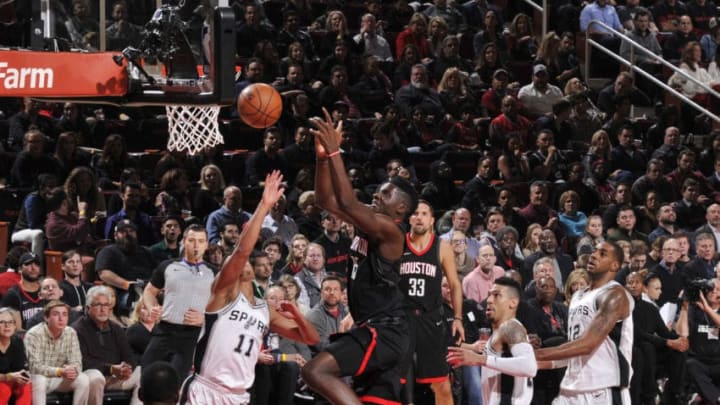 HOUSTON, TX - DECEMBER 15: Clint Cappella /
Frankly, on the day Star Wars: The Last Jedi hit theaters, there was no sign of the "Force" being with the San Antonio Spurs.
Friday's game vs. the San Antonio Spurs provided the opportunity to challenge one of the Western Conference's toughest teams, the Houston Rockets. A battle of the No. 3 vs. 1 teams in the conference, respectively, it could have been a playoff preview. Instead, it was a one-sided battle, with no sign of the "Force" on the Spurs' side, with Star Wars: The Last Jedi hitting theaters on Friday.
Even with the return of San Antonio's Jedi, Kawhi Leonard, he wasn't around enough to make a significant impact, as the team continued to manage his minutes. 12 points in 17 minutes is fine, for a player, but not enough for someone to change the game in dire circumstances, which the Spurs were in from the tip-off and on.
While Leonard was hurt, LaMarcus Aldridge proved there wasn't one final, last Jedi on the Silver and Black. However, since the San Diego State product returned, Aldridge shot just 38.6 percent from the floor. It will take time for an adjustment, especially once Leonard receives full-blown minutes. So, there can't be a concern yet.
Even @SpursCoyote is a fan of #StarWars
Have a fun Star Wars Night @sarampage pic.twitter.com/yIFZXxdUXi
— San Antonio Spurs (@spurs) December 9, 2017
Defensively, no one had their lightsaber or the Force ready to block or neutralize the Rockets. They were mauled by Chris Paul and James Harden's 28 points each. The latter man hit the charity stripe 16 times, 10 of which came in the first quarter. He continuously attacked the rim, allowing for his teammates to spread the floor and drain outside shots. Eric Gordon and Ryan Anderson were among the beneficiaries.
Next: Top 25 players in Spurs history
There was nothing powerful enough for the Spurs to channel on Friday. Maybe that changes on Saturday night, with another matchup against the Dallas Mavericks. It's a home game, so the team will look to end its back-to-back losses in front of the supporting crowd.