San Antonio Spurs: 3-pointers rain in wild shooting performance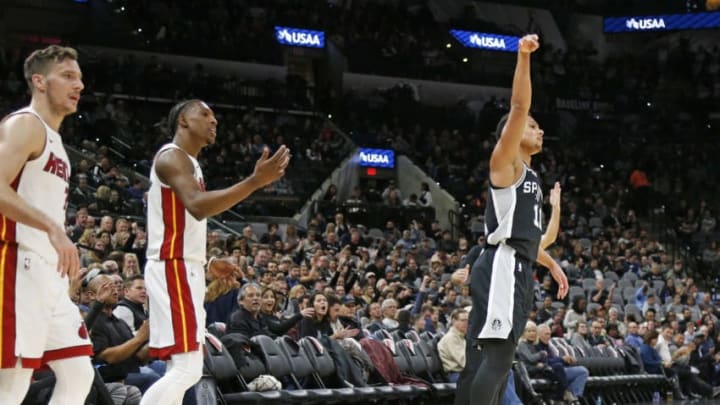 SAN ANTONIO,TX - DECEMBER 06: Bryn Forbes /
Blink once and you likely missed a 3-pointer during the San Antonio Spurs vs. Miami Heat.
Entering Wednesday's game against the Miami Heat, the San Antonio Spurs were 15th in the NBA in 3-point percentage (36.3). Not great but not poor, as it placed them in the middle of the pack. Well below the Golden State Warriors and slightly behind the Houston Rockets, the two teams ahead of them in the Western Conference.
If you never watched the Spurs play in the 2017-18 season, the win over Miami made them appear to be one of the league's best from behind the arc. It was led by Bryn Forbes, who went 5-for-5 from long distance in 28 minutes. Games like this were crucial for his future in the rotation, which could be up in the air, when Kawhi Leonard and Kyle Anderson return. If anything, Brandon Paul and Dejounte Murray stand a greater chance at receiving "DNP-Coach's Decision" in the coming days and weeks.
Forbes near-perfect shooting performance led the charge against a Heat squad that was almost unstoppable from long range. Tyler Johnson and Dion Waiters went on stretches, where they couldn't miss anything, going shot-for-shot with the Spurs, and then some, in the second and third quarters. The same went for Josh Richardson, who chipped in three 3-pointers of his own.
The threes were falling! Squad hit 13 from deep tonight ? https://t.co/ZZdeoLwEfV
— San Antonio Spurs (@spurs) December 7, 2017
To assist Forbes, Patty Mills and Danny Green combined for five shots. Davis Bertans and Manu Ginobili trickled in as well, providing the back-end play to one of the Spurs' best shooting performances of the year.
Combined, the Spurs and Heat shot 31-for-59 from 3-point range, or 52.5 percent. It's what bloated this game to over 200 combined points, with the Silver and Black allowing their seventh-highest total (105) of the season.
Next: Top 25 players in Spurs history
Will the shots pour in from outside? We'll see on Friday night, when the Spurs face the Eastern Conference's Boston Celtics.