San Antonio Spurs News
Spurs defeat Pistons, 96-93: Recap, highlights and more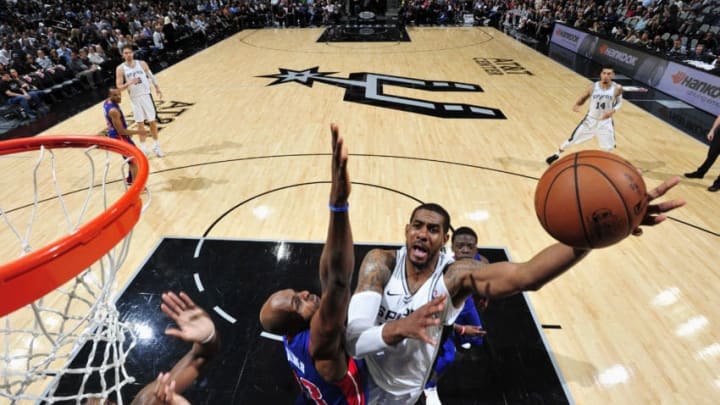 SAN ANTONIO, TX - DECEMBER 4: LaMarcus Aldridge /
Second-half rally lifts the San Antonio Spurs over Detroit to avoid a two-game skid.
After resting the big guns and losing a close game to the Oklahoma City Thunder, the San Antonio Spurs returned home to defend their court against a Detroit Pistons team that has easily outperformed expectations this season. Thanks in part to one of the most balanced scoring efforts of the season, the Spurs withstood an early deficit and fought back in the second half to take the win and avoid a two-game losing streak.
Tony Parker set the tone right from tip-off as he has in most games since his return, scoring 7 points in the first six minutes of the game, and Rudy Gay threw down a thunderous dunk over Andre Drummond, but Detroit scored almost as frequently and the Spurs found themselves trailing 29-28 at the end of the first quarter.
? RUDY RUDY RUDY! https://t.co/co0dufL1nZ
— San Antonio Spurs (@spurs) December 5, 2017
The second quarter wasn't much different; a balanced team attack kept the deficit small, but the Spurs had a hard time gaining momentum. San Antonio trailed 53-50 at the half. The Pistons went on an 8-2 run to start the third quarter and seize the momentum, but several key shots by Danny Green and Patty Mills helped swing the momentum back in the Spurs favor. After trailing for most of the game, the Spurs rallied in the fourth quarter to take a 94-88 lead. Several bad defensive possessions by the Spurs allowed the Pistons back within one. Detroit had a chance to get the ball back, down one, with four seconds remaining following a missed three-pointer by Rudy Gay, but the referees called a foul off the ball against Tobias Harris, giving LaMarcus Aldridge two free throws and effectively sealing the victory for San Antonio.
Aldridge again led the Spurs in scoring with 17 points and 10 rebounds, and Rudy Gay and Pau Gasol both notched double-doubles as well. Ultimately, eight different Spurs scored in double digits. For the Pistons, Reggie Jackson scored 27 points on 12-21 shooting, Tobias Harris scored 15, and Stanley Johnson scored 14 and added 10 rebounds, but it wasn't enough to fend off the Spurs.
Next: Top 25 players in Spurs history
San Antonio will look to keep the momentum going Wednesday against the Miami Heat. Tip-off is at 7:30 p.m. CST.