San Antonio Spurs News
San Antonio Spurs roundup: Return of the Dedmon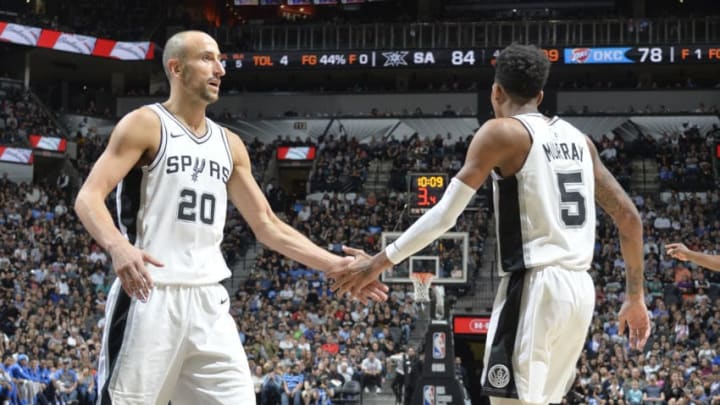 SAN ANTONIO, TX - NOVEMBER 17: Manu Ginobili #20 of the San Antonio Spurs celebrates with team mate Dejounte Murray #5 against the Oklahoma City Thunder on November 17, 2017 at the AT&T Center in San Antonio, Texas. NOTE TO USER: User expressly acknowledges and agrees that, by downloading and or using this photograph, user is consenting to the terms and conditions of the Getty Images License Agreement. Mandatory Copyright Notice: Copyright 2017 NBAE (Photos by Mark Sobhani/NBAE via Getty Images) /
The San Antonio Spurs defeated the Atlanta Hawks. Following the win, what news, notes and headlines developed for the latest roundup?
The San Antonio Spurs wrapped up a mini homestand on Monday, defeating the Atlanta Hawks, 96-85. This moved them to 11-6, with a scheduled off day on Tuesday. Players like LaMarcus Aldridge and Kyle Anderson stepped up in a game the Spurs mostly controlled.
Following this game, news, notes and headlines developed for the Silver and Black. What were the takeaways from Monday's performance? Did any news break through?
Let's look at the latest for the Spurs on Tuesday, Nov. 21:
Ryan Kostrzewa has the full recap of the Spurs vs. Hawks game.
The morning after this victory, what are the top reactions to the 11th win of the season? This includes the curious minutes decline for Rudy Gay, who played a season-low 13.
While not the flashiest player on the court, Kyle Anderson delivered a solid, all-around performance against Atlanta. He had 13 points, 10 assists (a career-high) and 6 rebounds, which marked his third double-double of the season.
Before Monday's game, we unveiled the latest Spurs Player Rankings for Week 5. There was movement near the top, but with Aldridge retaining his No. 1 spot. Did a new player enter the list?
SB Nation's Peachtree Hoops has more on John Collins' big night against the Spurs, who the Hawks selected in the 2017 NBA Draft. He had a career-high 21 points and 9 rebounds.
Pounding the Rock looked at the Spurs overcoming mistakes to defeat the Hawks. This included 18 turnovers.
The San Antonio Express-News spoke to ex-Spur Dewayne Dedmon before Monday's game. Dedmon left the Spurs in the offseason, and signed a two-year deal with Atlanta. He put up 11 points and 9 rebounds against his former team.
Next: Top 25 players in Spurs history
That's all for Tuesday's Spurs roundup. Let's see what develops for Wednesday, Nov. 22, and before the Thanksgiving holiday.