San Antonio Spurs News
San Antonio Spurs roundup: Team reacts to Texas church shooting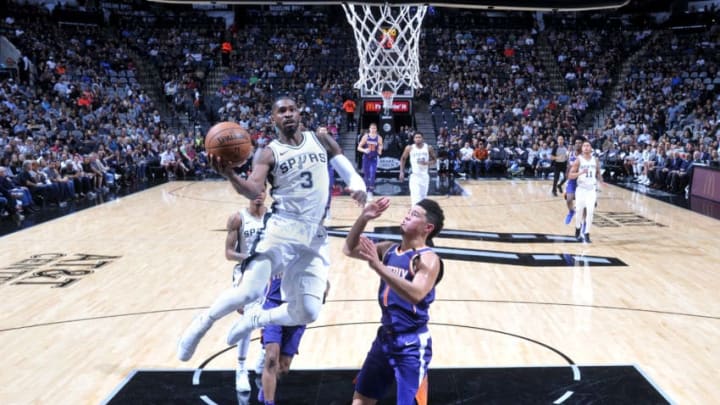 SAN ANTONIO, TX - NOVEMBER 5: Brandon Paul #3 of the San Antonio Spurs shoots the ball during the game against the Phoenix Suns on November 5, 2017 at the AT&T Center in San Antonio, Texas. NOTE TO USER: User expressly acknowledges and agrees that, by downloading and or using this photograph, user is consenting to the terms and conditions of the Getty Images License Agreement. Mandatory Copyright Notice: Copyright 2017 NBAE (Photos by Mark Sobhani/NBAE via Getty Images) /
The latest San Antonio Spurs news, notes and headlines for Monday, Nov. 6.
The San Antonio Spurs completed a successful weekend of basketball, snapping a four-game losing streak and winning back-to-back matchups. The first came against the Charlotte Hornets, winning by seven points. Then came Sunday's game against the Phoenix Suns, resulting in a blowout victory.
Entering Week 4, the Spurs have their most momentum since the four-game winning streak to start the season. They have three games to move forward with this, with the next one happening on Tuesday, Nov. 7.
Before this, there were a handful of news and notes that made its way through the weekend. Let's take a look at the latest for Monday, Nov. 6:
With Sunday's win, Spurs head coach Gregg Popovich moved into sixth place on the all-time wins list among NBA coaches. The person Popovich passed? The legendary Phil Jackson (at least in the coaching ranks). He could pass George Karl for No. 5 this season.
Davis Bertans' G-League stint was only for one game, but he looked sharp. We looked at his progress and what it meant for his outlook.
Before the Suns game, the Spurs held a moment of silence for the victims of Sunday's mass shooting in Texas. ESPN has more on it.
Pau Gasol commented on the mass shooting, calling for more to be done to protect the innocent. He said "it's gotten out of control," according to the San Antonio Express-News.
Popovich wasn't interested in talking about basketball after Sunday's win. He said basketball is meaningless, with the recent shooting near San Antonio.
Quick Popovich reaction… basketball not important after what occurred today in Texas #Spurs pic.twitter.com/8Iu7iWNJGy
— Jabari Young (@JabariJYoung) November 6, 2017
It was raining three's at the AT&T Center. The Spurs broke out for 11 made shots from behind the arc, three of which came from Patty Mills.
? ? ? ? ? ? ? ? ? ? ? ? https://t.co/BaQAq10wOe
— San Antonio Spurs (@spurs) November 6, 2017
Next: Top 25 players in Spurs history
That does it for Monday's Spurs roundup. What news will arise for Tuesday, Nov. 7?