San Antonio Spurs News
San Antonio Spurs: Kawhi Leonard's absence showing in losing streak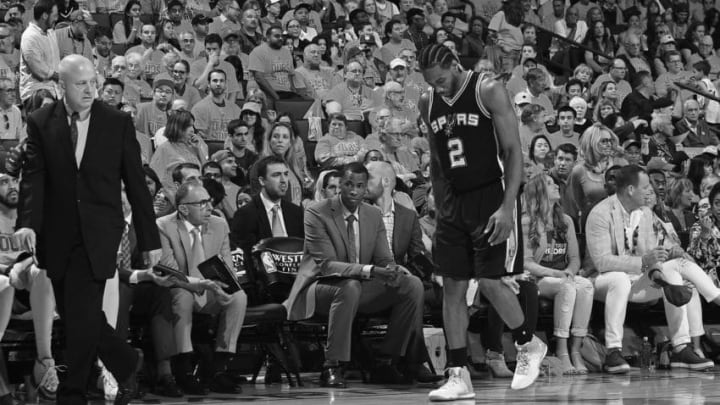 OAKLAND, CA - MAY 14: (EDITORS NOTE: Image has been converted to black and white.) Kawhi Leonard /
The San Antonio Spurs lost their third straight game last night without Kawhi Leonard. How has his absence impacted the team?
At the beginning of this season, things looked bleak for the San Antonio Spurs, as it was announced before the opener that Kawhi Leonard would miss that game, and possibly more, with a quad injury. Now seven games in, San Antonio started the season 4-0 but over the past week have lost three consecutive games. Two were to mediocre Eastern Conference teams, the Orlando Magic and Indiana Pacers, and the other to the Boston Celtics, who could be a legitimate conference contender.
LaMarcus Aldridge has picked up his game in Leonard's absence. Excluding the game against the Celtics, he has scored 20 points or more in everyone. However, while Aldridge is averaging 25.7 points per game, the next closest to him are Rudy Gay and Danny Green who are each averaging 11.8.
Leonard averaged 25.5 points per game last year which, based on that average, would be more than enough to have put the Spurs over the top in these last three games. Leonard's presence on defense as arguably the best two-way player in the league has been missed as well. In the game against Orlando, Evan Fournier scored 25 points while former Spur Jonathon Simmons added 17. Victor Oladipo scored 23 including the game-winning three-pointer in their next loss while Domantas Sabonis had 22. The Spurs then surrendered 24 points to Kyrie Irving and 18 to Jaylen Brown in the loss to Boston.
While San Antonio has a winning record at 4-3 right now and the season is in it's early stages, the team would love to have Leonard back. The six-year pro has become the team's best player and leader. The team believes Leonard will return some time in November, but it remains to be seen.
Next: Top 25 players in Spurs history
The Spurs return home to face off against the defending champion Golden State Warriors next on Thursday, Nov. 2 at the AT&T Center.