San Antonio Spurs News
San Antonio Spurs: Gregg Popovich's advice for Jonathon Simmons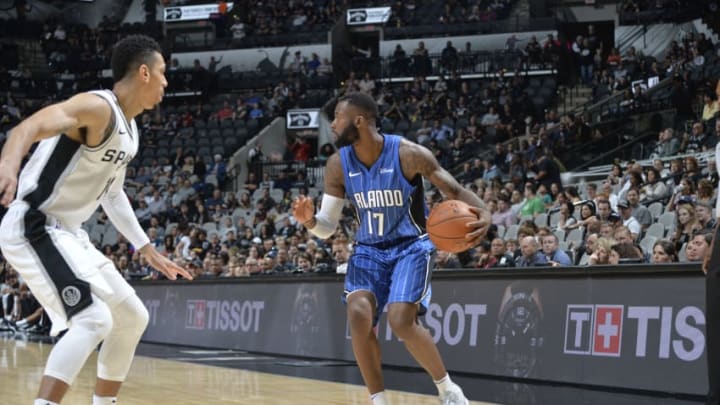 SAN ANTONIO, TX - OCTOBER 10: Jonathon Simmons /
San Antonio Spurs head coach Gregg Popovich provided friendly advice for Jonathon Simmons, his former player of two years.
Friday night's game between the San Antonio Spurs and Orlando Magic was the first time Jonathon Simmons played a regular season game against his old team since leaving in the offseason. The Magic gave him a three-year, $20 million deal.
Simmons played an effective game against the Spurs. He put up 17 points on 8-for-13 shooting in 23 minutes, acting as Orlando's second-leading scorer for the night.
After the game, Simmons and Spurs head coach Gregg Popovich embraced and exchanged a few friendly words. This turned out to be advice, as the 28-year-old told the post-game broadcast. Pop said, "Make sure you save your money." Simple but potentially impactful since his Magic contract was his first big-money deal in the NBA (h/t Jabari Young).
Simmons dropped 17 pts, 4 rebs in 114-87 #Magic win over #Spurs …saw Pop after the game, who gave him this advice moving forward pic.twitter.com/AHFNsqNGKF
— Jabari Young (@JabariJYoung) October 28, 2017
Let's back track for a moment. Before this interview, Popovich gave Magic guard Terrence Ross a headlock. He wore a hood, identical to what Simmons had on. So, does Pop have a random history with Ross? Or did he mistake him for his former player in San Antonio? Based on this humorous interaction, it looks like the latter as the two laughed it off quickly before parting ways.
Gregg Popovich with the @WWE audition tape pic.twitter.com/4IZCxosdxu
— Jeff Eisenband (@JeffEisenband) October 28, 2017
Never change, Pop. Never change.
It was quality advice he gave to Simmons, however. With the amount of professional sports stars have gone broke after receiving big contracts, it's something all current athletes should take into account for their financial future.
Must Read: 25 greatest players in Spurs history
Simmons once paid $100 to get a chance at playing in the D-League (now the G-League). Now he'll receive money to play basketball that potentially sets up his savings for life. It's the matter of how he handles it, though, along with any future contract the Magic or another NBA team gives him.