San Antonio Spurs: 2017-18 season prep starts on Monday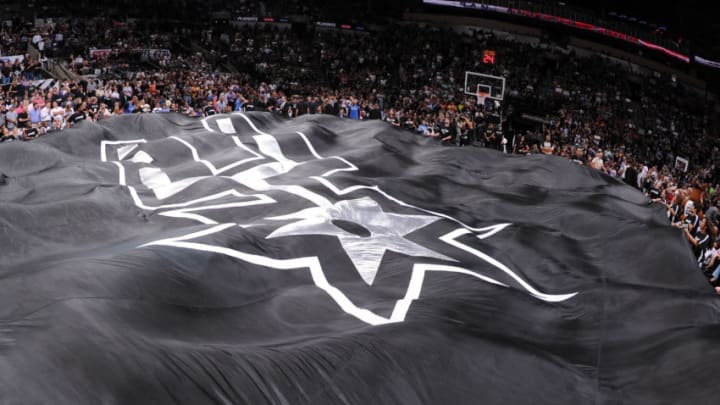 SAN ANTONIO,TX - MAY 29: Here is a photograph of the San Antonio Spurs logo prior to the game against the Oklahoma City Thunder in Game Five of the Western Conference Finals during the 2014 NBA Playoffs on May 29, 2014 at the AT /
The official Road to the 2017-18 NBA season begins on Monday for the San Antonio Spurs, with three weeks of activities before Opening Night.
Monday, Sep. 25 marks the start of prep for the 2017-18 NBA season for the San Antonio Spurs, as they eye the 2018 championship. Media Day will kick this off, with Spurs players and coaches speaking to the basketball journalists. It's a day of interviews, something leading to interesting quotes. 
The following day begins training camp. This is a week of practice and study before the season kicks off. It goes from Tuesday, Sep. 26 to Sunday, Oct. 1. Rotation battles will play out, while the coaching staff gets a look at the full roster for the season.
Sep. 30 at 11:00 a.m. is the Black and Silver Scrimmage. It will take place at the AT&T Center in San Antonio. The game is free to attend and features a handful of offers for fans that show up.
Monday, Oct. 2 will start the Spurs preseason schedule. It looks like this:
Monday, Oct. 2, 8:30 p.m. ET – @ Sacramento Kings
Friday, Oct. 6, 8:30 p.m. ET – vs. Sacramento Kings
Sunday, Oct. 8, 4:00 p.m. ET – vs. Denver Nuggets
Tuesday, Oct. 10, 8:30 p.m. ET – vs. Orlando Magic
Friday, Oct. 13, 8:00 p.m. ET – @ Houston Rockets
Wednesday, Oct. 18 will start San Antonio's regular season. They'll play the Minnesota Timberwolves at home. Five days will pass before this and allow the Spurs to rest and do final preparations.
Watch NBA for FREE on fuboTV: Watch over 67 live sports and entertainment channels with a 7-day FREE trial!
It sets up for a busy week for the Spurs, before the regular season even starts. There will surely be takeaways from Media Day, training camp and the preseason. It's around three weeks of activity to precede Oct. 18.
Must Read: 25 greatest players in Spurs history
What part of the build to the regular-season opener are you most looking forward to?