When will the San Antonio Spurs play the Warriors in 2017-18?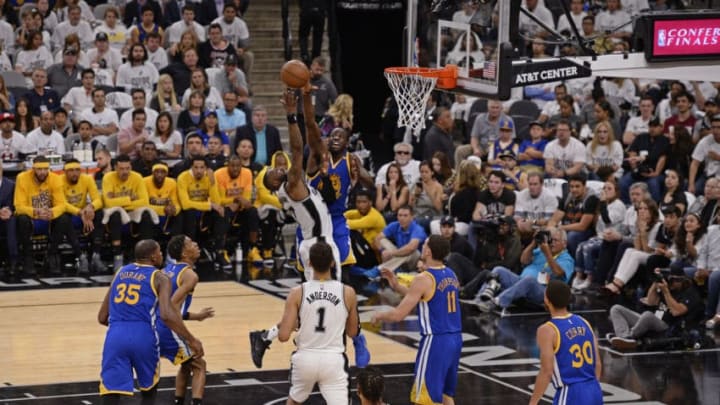 SAN ANTONIO, TX - MAY 22: Draymond Green /
The San Antonio Spurs and Golden State Warriors will play each other a handful of times in the 2017-18 NBA season.
The San Antonio Spurs and Golden State Warriors met in the 2017 Western Conference Finals. Without Tony Parker and a Kawhi Leonard ankle injury in Game 1, it led to the Spurs' demise. They were swept in four games, with the Warriors making the NBA Finals and winning that in five games. It was the organization's second championship in the past three seasons.
The Spurs and Warriors will meet up for more in the 2017-18 regular season, although it will be with lesser stakes. They will play four times, all of which are on national television.
This starts on Thursday, Nov. 2 at the AT&T Center in San Antonio, TX. It's only a few weeks into the season, which means both teams should be fresh.
Game 2 won't be played until Saturday, Feb. 10 at Oracle Arena in Oakland, CA. This should have both teams in regular season form, making for an entertaining game. The Spurs will have two days of rest prior to this, so don't look for Gregg Popovich to bench anyone, unless he gets a last-second urge.
The next matchup will be on Thursday, Mar. 8 in Oakland. Again, this won't be a back-to-back for the Spurs.
The final meeting will happen just 11 days later. The Spurs and Warriors will go head-to-head on Monday, Mar. 19, before parting ways for the rest of the season. Depending on how seeding plays out and if both teams succeed in the opening round of the playoffs, they might meet for another seven-game series.
Must Read: 25 forgotten players that were on the Spurs
Every Spurs vs. Warriors matchup will be anticipated in the 2017-18 season. Some of the Association's best will be on the court, and will draw in plenty of views on national television. Maybe the Game of the Year will result, too.