San Antonio Spurs Rumors: Brandon Paul to sign contract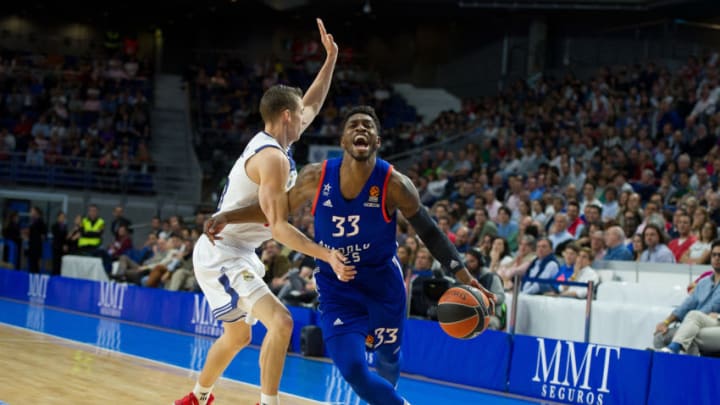 MADRID, SPAIN - APRIL 7: Brandon Paul, /
The San Antonio Spurs reportedly signed guard Brandon Paul to a contract.
The San Antonio Spurs made multiple acquisitions this offseason. It started with Rudy Gay, coming in on a two-year deal. Then, Joffrey Lauvergne signed a two-year contract of his own, replacing Dewayne Dedmon in the big man rotation.
On Thursday, the Spurs brought in their latest free-agent acquisition. NBA reporter David Pick announced on Twitter that Brandon Paul signed a deal with San Antonio.
Steve Kyler of Basketball Insiders previously reported Paul leaving the Cleveland Cavaliers' Summer League team. It was speculated he had an offer on the table.
Source: Brandon Paul, a Summer League star, is signing with the San Antonio Spurs.
— David Pick (@IAmDPick) July 13, 2017
Hearing summer league stand out Brandon Paul has left the Cavaliers summer squad, belief is he may have landed a deal.
— Steve Kyler (@stevekylerNBA) July 12, 2017
Paul's reported signing comes after a strong Summer League performance for the Cavaliers. In their game on Monday night, he put up 21 points in 20 minutes, making 4 3-pointers.
The terms of this deal will be interesting to see once it's officially announced. It's possible Paul signed a two-way deal, allowing him to bounce from the NBA to the G-League. That's unless the Spurs liked what they saw and will give him a chance to make the NBA roster.
Could Paul compete with Spurs Summer League star Bryn Forbes, if the former isn't exclusive to the G-League? It seems somewhat unlikely, given this fellow shooting guard combined for 70 points in the past two Summer League games and is potentially playing his way into a roster spot.
The Illinois product was not selected in the 2013 NBA Draft, but spent time in the D-League and Euroleague. His best stint in the former came in 2014-15, with the Canton Charge. He put up 15 points per game on 46 percent shooting. In Europe, Paul had 13.2 points per game through 33 games in the 2015-16 season.
Next: Blossomgame to start in the G-League
Paul will get the chance to play his first NBA regular season game in 2017-18, depending on the contract he receives and if he can make the Spurs roster. What do you think of this signing?