The San Antonio Spurs fall to the Orlando Magic 95-83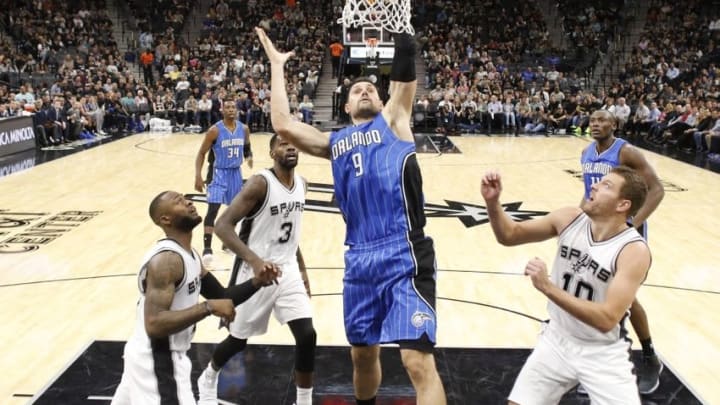 Nov 29, 2016; San Antonio, TX, USA; Orlando Magic center Nikola Vucevic (9) shoots the ball as San Antonio Spurs shooting guard Jonathon Simmons (17, left), and center Dewayne Dedmon (3), and power forward David Lee (10) look on during the second half at AT&T Center. Mandatory Credit: Soobum Im-USA TODAY Sports /
The San Antonio Spurs home struggles continue. The Orlando Magic make their way into the AT&T Center as they end the Spurs nine game winning streak.
It was a game that was ugly from the start for San Antonio. Many believed the Spurs would hand the Magic a loss as they came into the game with a 6-11 record. As many teams do, playing against San Antonio usually brings out the best, and it showed Tuesday night.
Orlando shot 45-percent from the floor while holding San Antonio to just 36.8 shooting. The Magic showed the energy on both ends of the floor forcing the Spurs to turn the ball over 18 times on the night.
With those turnovers forced, Orlando converted them to 15 points. That was a key for the Magic's win in San Antonio. Every chance they had, Orlando took advantage on the Spurs miscues.
Over the last two quarters, the Magic outscored the Spurs 50 to 39. Orlando's Serge Ibaka led the way with 18 points and seven rebounds. He went 7 of 11 from the floor.
He also had two steals.
For the Spurs, a ugly night to say the least. San Antonio could not buy a basket and at points in the game, they were looking for the referees to bail them out with foul calls, that were not called.
Kawhi Leonard had a game-high 21 points on 6 of 16 shooting from the floor. LaMarcus Aldridge finished with 16 points, six rebounds and three assists in the loss.
What kept the Spurs in the game was the play of the bench. Manu Ginobili led with 13 points. He also had six rebounds and three assists. Patty Mills added seven while Dewayne Dedmon finished with six points and eight rebounds.
With the loss, the Spurs fall to 4-4 at the AT&T Center and 14-4 overall.
Must Read: David Lee a key player for San Antonio off the bench
No time to reflect on the loss as they are on the road Wednesday night as they face the Dallas Mavericks.
Spurs are 9-0 on the road this season.