San Antonio Spurs News
Spurs' Pau Gasol thinks his NBA2K17 rating is high for his age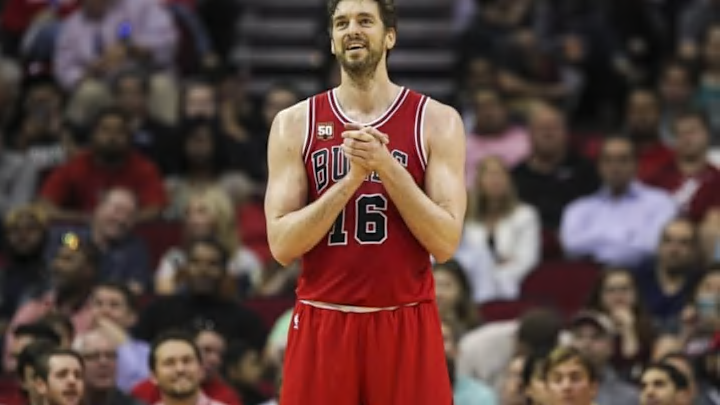 Mar 31, 2016; Houston, TX, USA; Chicago Bulls center Pau Gasol (16) reacts after a play during the third quarter against the Houston Rockets at Toyota Center. Mandatory Credit: Troy Taormina-USA TODAY Sports
2KSports widely anticipated title, NBA 2K17 hits shelves on Friday and last week the newest player ratings were released, and Pau Gasol came in rated 84.
More from Spurs News
San Antonio Spurs' Gasol is the second highest rated European player in the game, just behind his brother Marc of the Memphis Grizzlies.
Gasol isn't too hyped about his rating and even joked he is a bit jealous of his brother, Marc, getting a higher rating.
The Spanish edition of the NBA2K17 was officially presented Monday in Madrid with the presence of Gasol who graces the game's package cover.
"Well my brother's higher rating lowered my moral a bit," joked the San Antonio Spurs center. "But I don't think that there are many 36-year old players who have a rating of 84 in NBA2K," he then commented.
I feel that his rating is fitting. Pau still has that knock down mid-range jumper and it a astounding passer as a big man. His ability I feel is overlooked by opponents on what exactly he can bring to the NBA.
The Spanish edition of the NBA2K17 was officially presented last Wednesday in Madrid with the presence of Gasol — who graces the game's package cover.
The developers at 2K have made The Prelude, an introduction to the game's huge new MyCareer mode, available right now on XBox One and PS4.
To accompany that launch, they've also released the "Time to Assemble" trailer, with stars like Kevin Durant, Paul George and Draymond Green getting into some sort of futuristic lab.
That means you get George practicing tai chi, and Durant giving up the wonderful life of eating cereal in a bathtub.
2K is stepping up their game in the The Prelude (free download) which covers the college portion of MyCAREER, and has a ton of great content. If you want a head start on your career, or even just to get a taste of what the game is like this year, I promise it'll be worth your time.
Remember, how you play on the court and what you do off the court MATTER. In fact, one of the very first big story branches occurs in the Prelude. Play well enough there, and you'll get story elements less successful players won't.
must read: Projecting the Spurs NBA2K17 player ratings
NBA2K17 is about as close to realistic as it can get when it comes to being "in the game". Tony Parker, Kawhi Leonard and rookie Dejounte Murray have also had their ratings leaked. Parker comes in at a solid 80, Leonard is the highest rated on the Spurs with a 93 and Murray comes in at 70.