Spurs license plates rank atop the best in Texas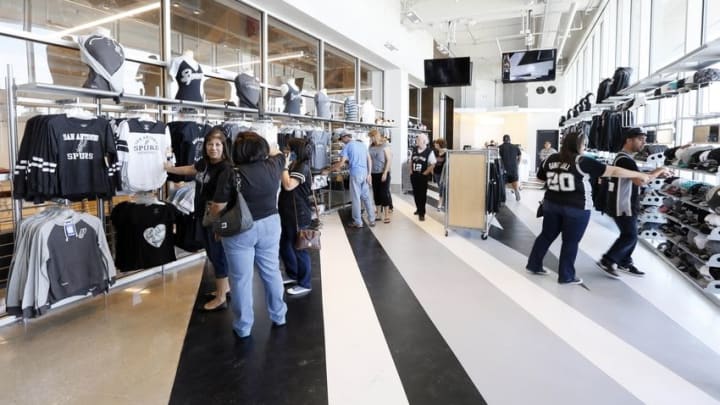 Oct 18, 2015; San Antonio, TX, USA; Fans shop at the San Antonio Spurs store prior to the Spurs /
The San Antonio Spurs have become a franchise that many around the world have grown to love.
More from Air Alamo
They are the definition of what being a team means. A group of people with a full set of complementary skills required to complete a task, job, or project. This team has done just that. Putting their egos aside and completing the task at hand-winning an NBA title.
What players on San Antonio do so well is operate with a high degree of interdependence, share authority and responsibility for self-management, are accountable for the collective performance, and work toward a common goal and shared rewards.
A team becomes more than just a collection of people when a strong sense of mutual commitment creates synergy, thus generating performance greater than the sum of the performance of its individual members.
That is San Antonio basketball.
The Spurs are definitely loved in Texas and you can find out first hand by simply driving the stretch of highways of the Lone Star state. In a study
, the Spurs are amongst the leaders in license plate sales.
"It is certainly the Number One NBA plate not only in the State of Texas–but certainly in the hometown of San Antonio" Steve Farrar with Myplates dot-com told KTSA News, detailing their numbers over the first half of 2016.
No matter where you live, there are fans across the world that show their team pride. Whether it be hanging a flag from outside the house to sporting them on vehicles, the spirit always lives. The actions fans take does not go unnoticed by teams. Win or lose, true fans will always show their support.
must read: Top 5 Centers In Spurs History
No question the Spurs are the top team choice in the city of San Antonio. What about across the Lone Star state? They rank behind two otherTexas teams, the Dallas Cowboys and the Houston Texans as far as license plate sales are concerned.
As everyone knows, Texas is in fact a football state so for the Spurs to make their way towards the top as far as fan appreciation goes, that is saying a lot.