Patty Mills Paces Australia Over Team France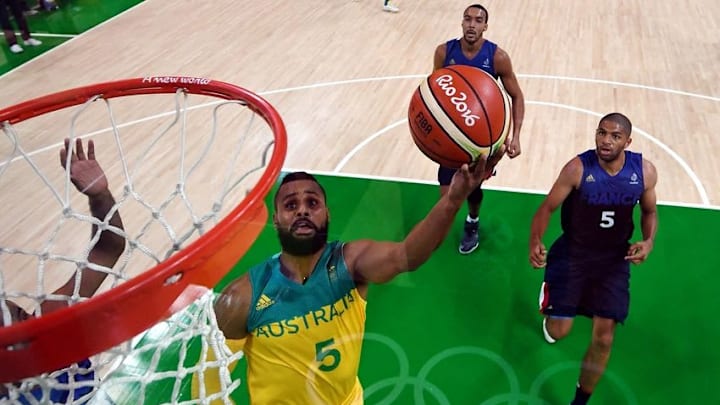 Opening Day of the Olympics kicked off Saturday with Tony Parker and Team France facing Patty Mills and Australia in opening round of the tournament.
It was a scene that many San Antonio Spurs fans have not witnessed, Parker and Boris Diaw going up against teammate, Mills. Though the game would go back and forth in the first half with each team exchanging baskets. In the second half, Australia put the clamps on defense and their offensive exploded.
Mills would over power Parker and France to a 87-66 win. Mills led the Boomers with 21 points on 7-of-15 shooting from the floor including 3-of-6 from 3-point. Andrew Bogut had 18 points, five assists and four rebounds.
With a big lead in the first half, Parker helped mount a comeback for the Les Bleus to bring his team within three (33-36) to end the half. Parker finished with 16 points in the half and helped keep France in the game and momentum on their side.
The momentum though was left in the first half as the Boomers came out the guys on fire. They opened up the third quarter with a 12-2 run sparked with a beautifully timed alley-oop from Matthew Delavedova to Bogut.
Australia played remarkable basketball in the second half. Their offense was on, assisting on 29 of their 35 made field goals. Ball movement was key for the Boomers as Dellavedova led the way with 10 helpers, Mills finished with five. Defensively, they forced Parker and France to turned the ball over 17 times, and take quick shots.
Parker finished with 18 points on 6-of-14 shooting from the floor and no turnovers. Diaw played 31 minutes and finished with nine points, five rebounds and two assists.
Mills stated coming into this game that he felt his team could make a run not only in the tournament but at Team USA.
This time we're in the same pool, which is better … and they can be beaten. With the group that we have, we believe that we can beat them.
To be able to achieve greatness we need to be able to beat greatness, and that's what we see with the USA team, with France and the other powerhouses.
Australia and USA are in the same Grouping during the tournament and with the performance that Mills and his team put on against France, they are heading into their next game against Serbia on Monday with loads of confidence.
Parker and the Les Bleus will also be back in action on Monday as they face China.