San Antonio Spurs News
San Antonio Spurs Bench Is A Mystery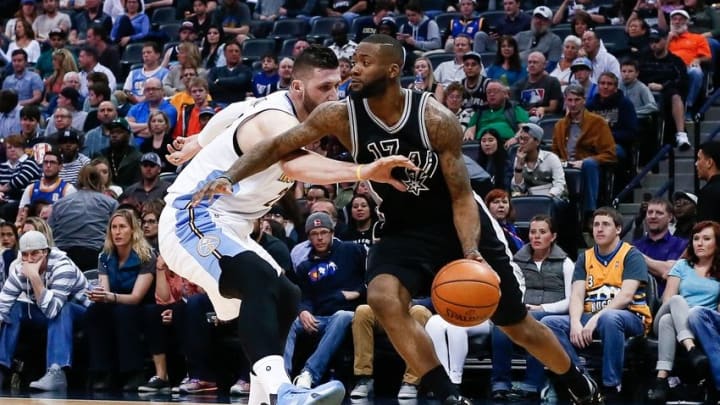 Apr 8, 2016; Denver, CO, USA; Denver Nuggets center Joffrey Lauvergne (77) defends against San Antonio Spurs guard Jonathon Simmons (17) in the second quarter at the Pepsi Center. Mandatory Credit: Isaiah J. Downing-USA TODAY Sports
The San Antonio Spurs bench for the first time in years is a bit of a mystery. Besides Manu Ginobili and Patty Mills, it is a youthful mixture that cannot be gauged yet.
More from Air Alamo
Last year, it consisted of veterans and you knew what you were going to get night in and night out. Unfortunately, that bench mostly disappeared in the 2nd round against the Oklahoma City Thunder. If Kawhi Leonard or LaMarcus Aldridge, or both were on the bench, the Spurs looked old and were outplayed during those stretches. Now with Boris Diaw in Utah, David West in Golden State, and of course Tm Duncan retiring, the Spurs are going to look a whole lot different this upcoming season.
The starting unit will be Pau Gasol replacing Duncan with the rest of the unit intact. The bench guards will still be Ginobil and Mills spelling Danny Green and Tony Parker, and rookie Dejounte Murray hopefully progressing into a regular role off the bench as well. That is of course one of the unknowns.
Dewayne Dedmon, and Davis Bertans will be spelling Gasol and Aldridge, but again, will they be any good? Jonathon Simmons and Kyle Anderson are both steadily improving, but are they ready for bigger roles?
During a trip to the Finals, the bench has always played a big part for the Spurs. Perhaps 1999 being a bit of an exception to that rule. The 1999 starters with young Duncan almost never coming out led the way. Still, if Jaren Jackson had not got hot in the playoffs to give the Spurs some punch off the bench, it would have been harder.
In 2003, you had Ginobili  who was huge off the bench, Rose was very important and veterans like Danny Ferry, Steve Smith, Kevin Willis, and Steve Kerr gave quality minutes. Kerr delivered a Classic Spur's Playoff Game Gem against the Dallas Mavericks in Game 6 of the Western Conference Finals, and hit two huge buckets late against the New Jersey Nets in Game 5 of the 2003 Finals.
In 2005, you had Robert Horry , Brent Barry and Beno Udrih contributing important minutes throughout that Championship run. Horry's Game 5 heroics against the Pistons is the stuff of legend!
In 2014, the bench was maybe the best of any Spurs bench. Ginobili and Mills at guard firing away, both in top form, Diaw playing his greatest series ever.
So will this year's bench provide the boost the Spurs team needs when their starters inevitably have to get some rest?
The answer remains to be seen. Spurs fans just need to continue to trust in Gregg Popovich and hope for the best.