NBA Players React To Tim Duncan's Retirement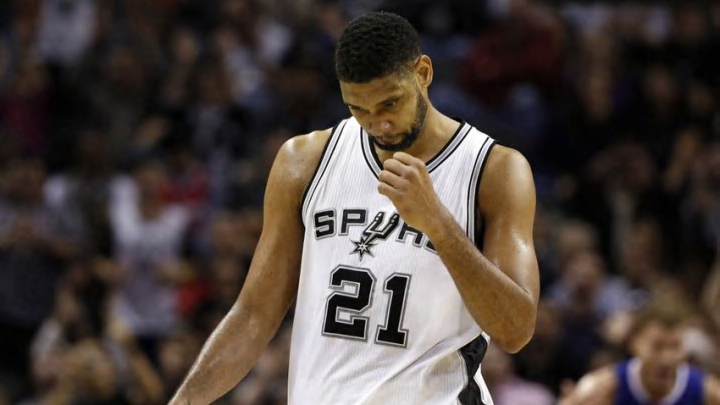 Dec 22, 2014; San Antonio, TX, USA; San Antonio Spurs power forward Tim Duncan (21) reacts against the Los Angeles Clippers during the second half at AT&T Center. Mandatory Credit: Soobum Im-USA TODAY Sports /
The greatest power forward of all-time Tim Duncan today announced his retirement after 19 incredible seasons.
More from Air Alamo
Just as the news broke, players from around the league, former and active, expressed their feelings towards Duncan. A man that touched so many hearts around the league and world, you could not help but love the man that he was. At the young age of 40, Duncan did what many hoped to accomplish in a sport. He won titles (5x Champion), was the league Most Valuable Player, 2x NBA Finals MVP, named to the All-NBA, All-Defense teams.
Want more?
He was a 15x NBA All-Star. He and Gregg Popovich are the only player/coach duo to win over 1,000 games together (1,001). A feat in itself. There are not many players that can say they were able to play and be committed to one team their whole career. Duncan can. Almost two decades in San Antonio, fans, and players saw the the former No.1 pick out of Wake Forest in 1997 grow to be what everyone calls, "The Big Fundamental".
Just how respected is he around the league? See for yourselves.
Congrats TD #19yrs #GoSpursGo
— Kobe Bryant (@kobebryant) July 11, 2016
Sometimes all you NEED to say is THANK YOU……..To the BEST EXAMPLE of a Leader, Brother, Friend. Looking forward to the Phase Homie!
— Bruce Bowen (@Bowen12) July 11, 2016
Even tho I knew it was coming, I'm still moved by the news. What a HUGE honor to have played with him for 14 seasons! #ThankYouTD
— Manu Ginobili (@manuginobili) July 11, 2016
Congrats TD – you epitomized heart, humility & class. Will never be another. The Spurs, NBA & the game will never be the same. #ThankYouTD
— Sean Elliott (@seanelliott_32) July 11, 2016
Congrats to Tim Duncan. Probably a top 5 all time player and undoubtedly a top 5 all time teammate. Wow, what a career.
— Steve Kerr (@SteveKerr) July 11, 2016
Timmy D. Say it ain't so!!! Greatest power forward ever!
— Dirk Nowitzki (@swish41) July 11, 2016
Duncan's season may not have ended the way he wanted, but you can't deny the heart and soul he had everytime he stepped foot on the floor. A player that ever wanted to be in the spotlight, Duncan helped the San Antonio Spurs in setting a franchise record with 67 wins during the 2015-16 season.
He averaged 20.1 points, 11.5 rebounds and 2.3 blocks over his career.
Truly a player that played the game the right way. Every fan that steps foot into the AT&T Center can look up at the five banners that are hanging and know, that Duncan helped lay the foundation of San Antonio basketball.