San Antonio Spurs News
Boris Diaw likely out of San Antonio With Gasol Signing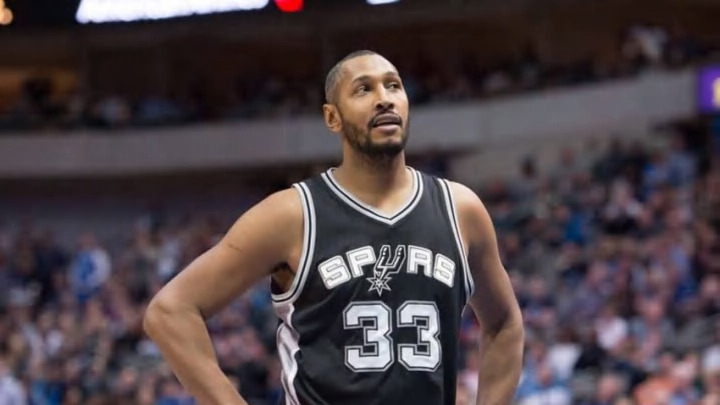 Feb 5, 2016; Dallas, TX, USA; San Antonio Spurs center Boris Diaw (33) in action during the game against the Dallas Mavericks at the American Airlines Center. The Spurs defeat the Mavericks 116-90. Mandatory Credit: Jerome Miron-USA TODAY Sports /
On Monday, the San Antonio Spurs recieved a verbal agreement with All-Star Pau Gasol.  This ultimatley means, Boris Diaw's time in San Antonio is done.
More from Air Alamo
Diaw has played for San Antonio over the last 5 years. Not the most athletic player on the team, he still was a key contributor to the Spurs 2014 championship team. San Antonio needs to make adjustments to their roster to accommodate Gasol.
According to multiple league sources, the Spurs are actively looking for trade partners to take on the forwards' $7 million salary, in order to clear salary cap space to accommodate what the Spurs are reportedly offering to Gasol (two-year, $30 million deal).
Diaw was a fan-favorite. Diaw is relaxed to the point of aloofness. His motor turns off and on. If he feels like playing, he'll play. If he's disinterested, his production suffers greatly. His passing ability and craftiness around the rim made him a special player for San Antonio.
There were reports he and coach Gregg Popovich were on the outs during the season. Also take into account that Popovich did not play Diaw in Game 6 versus the Oklahoma City Thunder in last season's semifinal match-up. Popovich did have issues with Diaw's weight and would leave him in during blowouts so that he could shed a few.
No new deals can be inked until Thursday, when the league moratorium ends. Neither can trades be executed. But teams are free to negotiate the parameters of a swap to be executed at the appointed time.
Over the course of five years with San Antonio, Diaw averaged 7.4 points, 2.6 assists, 3.8 rebounds, and 50-percent from the floor. His numbers are not eye-popping to say the least, but Diaw still produced when his number was called.