San Antonio Spurs News
FanSided NBA Mock Draft First Round 2016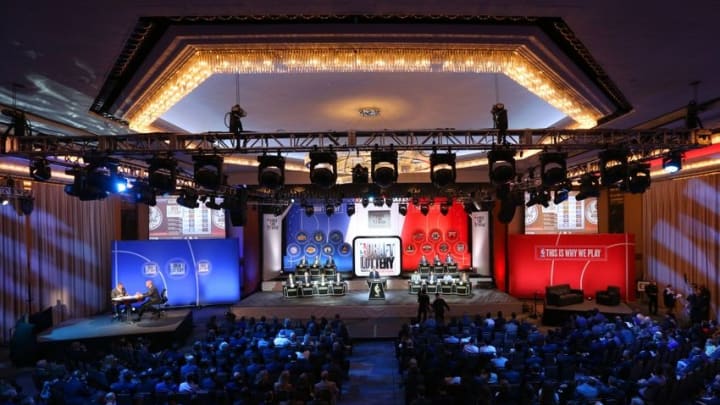 May 17, 2016; New York, NY, USA; General view during the NBA draft lottery at New York Hilton Midtown. The Philadelphia 76ers received the first overall pick in the 2016 draft. Mandatory Credit: Brad Penner-USA TODAY Sports /
In cooperation with all the NBA sites within FanSided, a mock draft has been compiled of the first round of Thursday's NBA draft.
Here's a link to the mock draft so you can take a look at what players were selected by each team with a pick in the first round.
This was a lot of fun to do, and I found myself learning about so many different draft prospects as I studied each player's strengths and weaknesses.
We were in charge of making the pick for the San Antonio Spurs, but with how successful the Spurs were this season, it took a while for us to get on the clock.
The Spurs won a franchise best 67 wins this year, which under most circumstances would ensure picking last in the first round.
More from Spurs News
The Golden State Warriors had other plans, though, so their record-breaking 73 wins earned them the right to pick at number 30.
The Spurs settled in at number 29. They don't have a second round pick, but conveniently enough, FanSided only did a mock draft of the first round, so we didn't feel left out of the process.
After the due diligence of studying the prospects that were expected to be available around the time the Spurs were selecting, we decided that our first choice was going to be Thon Maker if he was available.
We kept our fingers crossed that he'd still be undrafted by the time the Spurs went on the clock, but he was taken by the Philadelphia 76ers with the 26th pick.
We were sad, but not totally defeated, because there were other intriguing alternatives. The Spurs have the luxury of being one of the elite teams in the NBA already, and able to draft for the long-term instead of feeling pressured to pick a player who can instantly contribute.
After some deliberation, we decided to go with Chinese center Zhou Qi with the 29th overall pick in the 2016 NBA mock draft.
Next: Are the Big Three Returning to San Antonio?
Our rationale is included in the link to the mock draft above. He has captivating skills, and although he's a bit of a project at this point, the Spurs have had a lot of success with draft-and-stash prospects.