Spurs To Offer Deal To Latvian Sharpshooter Davis Bertans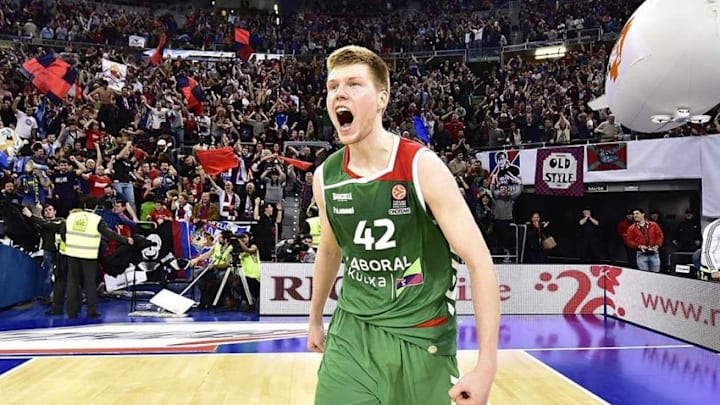 Reports indicate that Latvian Davis Bertans, a 6-10, 210-pound small forward who played last season with Laboral Kutxa, might be making his way to the Spurs.
Bertans was originally drafted 42nd in the 2011 NBA Draft by the Indiana Pacers before coming to San Antonio via the Kawhi Leonard and George Hill trade. Eurohoops.net reports that the Spurs are ready to offer him a minimum contract.
More from Spurs News
Bertans, 24, has
on his contract with Laboral Kutxa, but according to the report, it could be bought out. He had knee surgery and rehabilitation in April in San Antonio before going back to his old team, Vitoria, last season.
During 15 games last season with Laboral Kutxa, Bertans averaged 7.9 points and 2.0 rebounds. What is more appealing than his size is his shooting ability from the 3-point line–which will fill a void for the Spurs' outside shooting from the forward spot. He hit 47.4 percent of his 3-point shots and also was a deadly 90.5 percent from the foul line.
Bertans could transition nicely for Matt Bonner, who will be turning 36 and also coming off a season in which he played a career-low 30 games.
Bertans has excellent shooting mechanics, featuring an extremely high and quick release. His outstanding catch and shoot ability will make him dangerous coming off of screens. His shooting range is not-limited, as he will have very little trouble adjusting to the NBA three-point line. Bertans is not exceptionally quick, but shows good mobility running the floor.
What Bertans also possesses fits in directly with what makes San Antonio–strong court-vision and impressive passing ability. If and when San Antonio does offer Bertans a contract, he could quickly transition to the NBA game without missing a beat. With this frame, he could be a handful on the perimeter against other shooters in the league, defensively.
He was looked at by Nike International Director Nick Shoebrooks as being the top shooter to play on the Hoop Summit International squad since Dirk Nowitzki. Take that how you will. We all know the shooter that Nowitzki is.