San Antonio Spurs News
Kobe Bryant named 'Athlete of the Decade' by Spike TV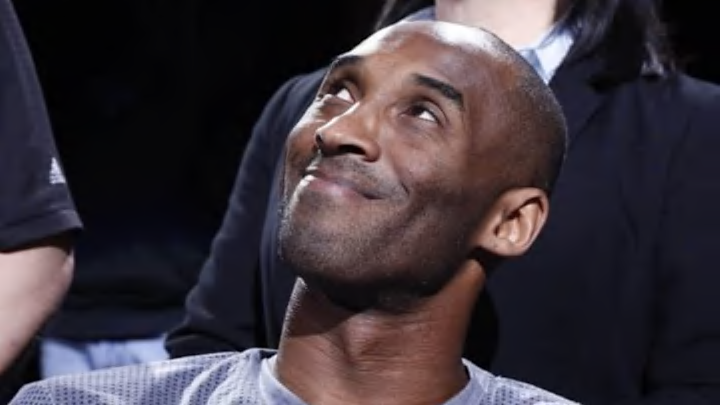 Feb 6, 2016; San Antonio, TX, USA; Los Angeles Lakers small forward Kobe Bryant (24) smiles before the game against the San Antonio Spurs at AT&T Center. Mandatory Credit: Soobum Im-USA TODAY Sports
Kobe Bryant might be finished with basketball, but basketball is not finished with him. If there is a slight chance that Bryant has more room in his personal trophy case, he should be ready to add a one more to his collection.
Spike TV announced Thursday that they are naming Bryant their "Athlete of the Decade", making him their first-ever recipient of the award, which will be presented to him on June 9th at Spike's 10th Annual "Guys Choice" Awards.
It sounds like they easily could have chosen to give this award to another legend nearing the end of his career.
Tim Duncan isn't positively done with basketball like Bryant is, but many fans would argue that he is more deserving of this award than Bryant.
His nondescript demeanor never made him as big of a cultural icon as Bryant, though, and it's understandable if Spike felt the need to bestow this award to a bigger box-office draw like Bryant. Playing in Los Angeles didn't hurt Bryant, either.
More from Spurs News
Over Bryant's 20 year career he has had a wide range of accomplishments, including 5 NBA Championships, 18 All-Star appearances, 15 All-NBA teams, 12 All-Defensive Teams, 2 Olympic Gold Medals, 1 NBA MVP award and 2 Finals MVP awards. Bryant's hard work, determination and overall excellence on the basketball court has been an inspiration to generations, and while other athletes have been nominated for this award, he is the very first to officially win it.
Spike TV Executive Producer Casey Patterson released a statement regarding Kobe's legacy and nomination for the award:
By any measure, Kobe Bryant is a sports legend who exemplifies athletic excellence, world class sportsmanship and stands as one of the greatest to have ever played the game. Guys Choice is thrilled to be honoring Kobe's remarkable and now legendary 20 year career in basketball.
Spike TV's Guys Choice Awards celebration will be taped on Saturday, June 4th at Sony Pictures Studios in Culver City, Ca, but will air on Spike TV June 9th at 9pm ET/PT.
The show hosts a round of great athletes, comedians and entertainers, for a night of fun and recognition of their accomplishments.
Tim Duncan will just have to win another award from a TV channel looking to honor an athlete.