San Antonio Spurs News
San Antonio Spurs Excited About Boban Marjanovic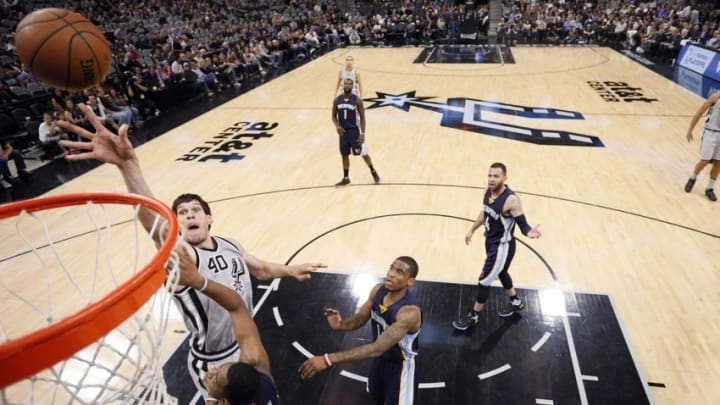 Apr 17, 2016; San Antonio, TX, USA; San Antonio Spurs center Boban Marjanovic (40) shoots the ball over Memphis Grizzlies power forward Jarell Martin (10) during the second half in game one of the first round of the NBA Playoffs at AT&T Center. Mandatory Credit: Soobum Im-USA TODAY Sports /
There are a lot of reasons to be excited about Boban Marjanovic. Not only is he a skilled 7'3 giant with a prowess for playmaking, but in his limited minutes this season, he proved to be an extremely efficient inside scorer.
Among NBA players, only Stephen Curry had a higher True Shooting Percentage than Marjanovic. True Shooting Percentage accounts for 3-pointers and free throws as well as regular field goals. Marjanovic doesn't have 3-point range, but shoots free throws at about 76%, which is very good for somebody his size.
Per minute on the court, Marjanovic also gets to the line extremely frequently. Marjanovic shoots about 8 free throw attempts per 36 minutes, which would rank him amongst the leaders in that category if he played a typical starter's minutes.
Only Kawhi Leonard and LaMarcus Aldridge scored more points per minute than Marjanovic for the Spurs. Marjanovic is nimble enough inside to draw fouls and powerful enough to finish near the basket.
More from Spurs News
Marjanovic lead the Spurs in both offensive rebounds per minute as well as defensive rebounds per minute. During his sparse playing time, he proved to be extremely productive as an inside presence.
He shot about 67% from the paint, which is very impressive relative to the rates of other players in the league.
Although he's shown promise in his midrange shot, it's not quite there yet. He shot about 42% from midrange, which is a decent percentage, but a closer examination shows some troubling patterns.
About 55% of Marjanovic's midrange shots came from the right baseline, and this was a very ineffective zone for him. He went just 6-21 from that area, indicating that he'll either have to spread his shots around to areas more comfortable for him, or practice shooting from that zone during the offseason to improve on those numbers. 
Albeit in limited minutes, Marjanovic ranked 3rd in the entire league in Player Efficiency Rating. The Spurs may be looking for a new starting center next season, and Marjanovic showed the type of promise to indicate that he could very well be the Spurs' starting center of the future. Whether that future begins next season, however, is still yet to be determined.
Next: San Antonio Spurs Throw Fun Costume Party
Many of Marjanovic's minutes came during garbage time or insignificant moments, but his scoring and rebounding output is intriguing regardless of the circumstances. There aren't many 7'3 centers who possess his playmaking abilities, and the Spurs will likely continue to increase the role of Marjanovic on the team, assuming that they don't lose him to restricted free agency.