San Antonio Spurs News
Stephen Curry to Win NBA MVP Award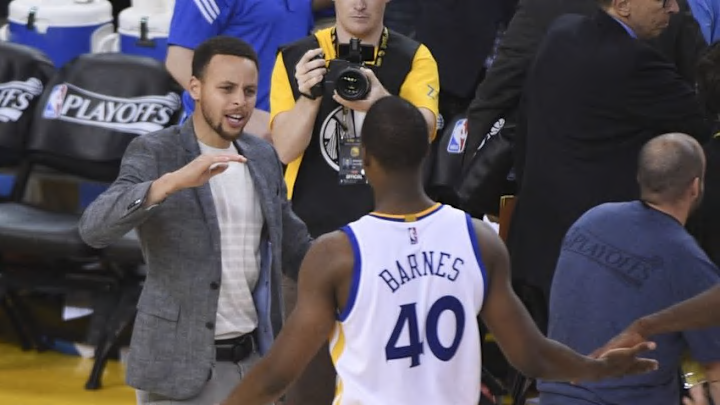 May 3, 2016; Oakland, CA, USA; Golden State Warriors guard Stephen Curry (30, left) celebrates with forward Harrison Barnes (40) against the Portland Trail Blazers during the fourth quarter in game two of the second round of the NBA Playoffs at Oracle Arena. The Warriors defeated the Trail Blazers 110-99. Mandatory Credit: Kyle Terada-USA TODAY Sports
The NBA MVP Award isn't switching hands this season, staying firmly within the grasps of Stephen Curry.
League sources are indicating that Curry will be the 11th player in the history of the league to repeat as MVP.
What is still up in the air is whether Curry is going to be voted unanimously for this honor. No player has ever accomplished that feat.
More from Spurs News
It will also be interesting to see where Kawhi Leonard finishes in the voting. After the terrific season he had for the San Antonio Spurs, a 2nd place finish for MVP balloting seems realistic.
The voters got this one right. Curry had a phenomenal season as the best player on a historically great Golden State Warriors team.
The Warriors set an NBA record with 73 wins during the regular season, and Curry had more of an influence on their success than any of his teammates. He averaged 30.1 points per game, 6.7, assists per game, and even pulled in 5.4 rebounds per game despite his relatively diminutive size.
Curry continued to rewrite the record books with his absurd outside shooting. He made 402 3-point field goals this season. Nobody in the history of the NBA had ever made even 300 in a single season.
Curry is becoming the new face of the league, and is certainly shaping the development of the next young crop of future NBA players.
25 years ago, kids dreamed of flying above the rim like Michael Jordan. 10 years ago, the same aspiration was attached to emulating the mythical athleticism of LeBron James.
Curry has the opportunity to transcend culture not through aerial acrobatics, but the art of shooting the basketball. A kid needed to be blessed with physiological gifts to mimic Jordan or James. Although Curry's talents may be aided through genetic predisposition, shooting can be developed through repetition and dedication, unlike dunking ability.
Next: R.C. Buford Wins NBA Executive of the Year
Curry is the most accessible face of the league that's ever been put on this exclusive pedestal, and it will continue to be intriguing to witness how it will transform the game.