San Antonio Spurs News
San Antonio Spurs' Offense Remains Formidable in Playoffs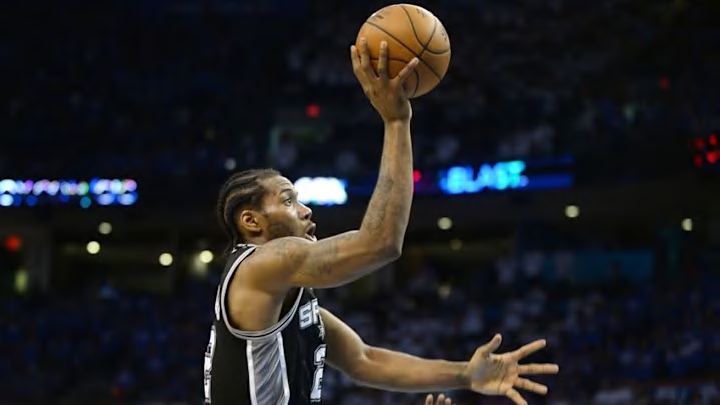 May 6, 2016; Oklahoma City, OK, USA; San Antonio Spurs forward Kawhi Leonard (2) shoots the ball against the Oklahoma City Thunder during the fourth quarter in game three of the second round of the NBA Playoffs at Chesapeake Energy Arena. Mandatory Credit: Mark D. Smith-USA TODAY Sports
The San Antonio Spurs have been relying on a more top-heavy offense this postseason, yet they've still managed to maintain their signature brand of scoring depth from numerous rotation players.
LaMarcus Aldridge and Kawhi Leonard are the two leading scorers for the Spurs this postseason. They were also the two alpha dogs on the offensive end during the regular season.
More from Spurs News
Both Aldridge and Leonard have been scoring more points per game than either did during the regular season. What makes their improvement even more remarkable is that their shots per game totals have remained fairly constant compared to their regular season outputs.
Leonard has actually decreased his shots per game this postseason compared to the regular season. Aldridge has been shooting about 2 more shots per game during the playoffs compared to his regular season, but his incredible 58% field goal percentage certainly justifies the increase in reps.
The difference this Spurs team has seen in the playoffs in terms of their scoring is that no other player besides Leonard and Aldridge is averaging double-digit point totals per game. During the regular season, Tony Parker helped carry the scoring load by averaging 11.9 points per game. This postseason, however, has seen his output dip to 9.6 per game.
The critical factor that has remained is the Spurs' extraordinary roster depth. Each complementary piece is able to contribute to the team's offensive output.
During the playoffs, 9 different players have been able to average at least 5 points per game for the Spurs. Although this is down compared to their regular season, that's to be somewhat expected as fatigue starts to affect performance.
These slight decreases are offset with Leonard and Aldridge's improvements, though. The Spurs are averaging about a point more per game during the playoffs than they did during the regular season.
Next: 3-Point Shooting Returns For San Antonio Spurs in Game 3
Gregg Popovich has a talented roster full of diverse options to deploy. The Spurs are using their deep rotation to make their impact on the playoff landscape.