Enes Kanter Can Cause Problems For San Antonio Spurs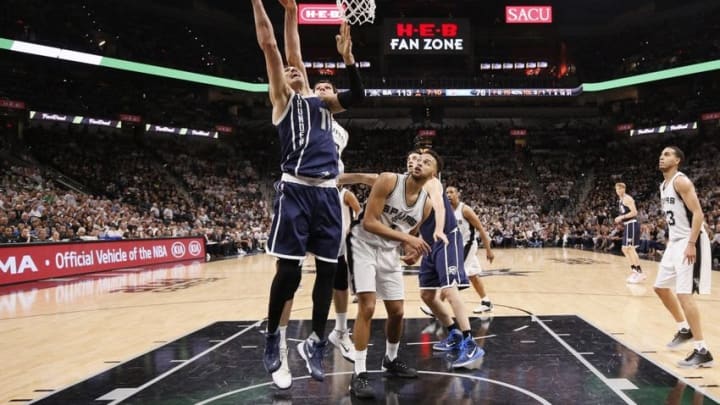 Apr 30, 2016; San Antonio, TX, USA; Oklahoma City Thunder center Enes Kanter (11) has his shot blocked by San Antonio Spurs center Boban Marjanovic (40, behind) in game one of the second round of the NBA Playoffs at AT&T Center. Mandatory Credit: Soobum Im-USA TODAY Sports /
Enes Kanter provides the Oklahoma City Thunder with interior scoring off the bench, but his biggest asset is his rebounding ability, particularly on the offensive end.
Kanter lead the NBA in offensive rebounding percentage by a whole percentage point in the regular season. His skills crashing the boards allow the Thunder to cash in on extra possessions during the course of the game.
More from Spurs News
As a team, the Thunder lead the league in second chance points, and Kanter's rebounding was a huge reason why.
In the first 2 games of their series with the San Antonio Spurs, the Thunder have grabbed 20 offensive rebounds. Kanter has contributed 6 of those. Those same rates were about what he averaged during the regular season. What makes his production even more remarkable is that he was tied for 8th in the league in offensive rebounds per game despite playing just 21 minutes per game.
Particularly in close games like game 2, any extra possession generated can end up being the difference in the final outcome. The Spurs front court players need to stop Kanter from hauling in offensive rebounds.
The combination of LaMarcus Aldridge and Tim Duncan only grabbed 8 rebounds in game 1. In game 2, they pulled in 17.
No Spurs player has gotten more than 9 rebounds in a single game this series, and the Thunder are winning the rebounding battle by 8.
The Spurs have attempted 14 more shots than the Thunder over the course of 2 games, and have made 18 more shots. They're shooting about 6% better.
Overall, there's been 87 misses for the Spurs and 91 misses for the Thunder. Theoretically, this should mean that the Spurs should have a slight rebounding advantage over the Thunder, considering defensive rebounds are easier to obtain than offensive rebounds. 
The Thunder hold the rebounding advantage, though, with 101 rebounds to the Spurs' 93. Kanter plays a huge role in the Thunder being such a solid rebounding team. During the regular season, the Thunder lead the league in Rebound Rate.
The Spurs were still tied for 3rd in Rebound Rate during the regular season, though. In a series that was expected to be close, this critical battle for possessions can end up tipping the scale in one direction.
Next: Making Sense of Why the San Antonio Spurs Lost Game 2
The Spurs need to commit themselves to cleaning up the glass, and make sure the Thunder aren't able to extend possessions. There's still time for the Spurs to catch up in the rebounding battle, but a huge part of that effort is going to be containing Kanter's influence.