San Antonio Spurs News
San Antonio Spurs vs. OKC Thunder Game 2 Preview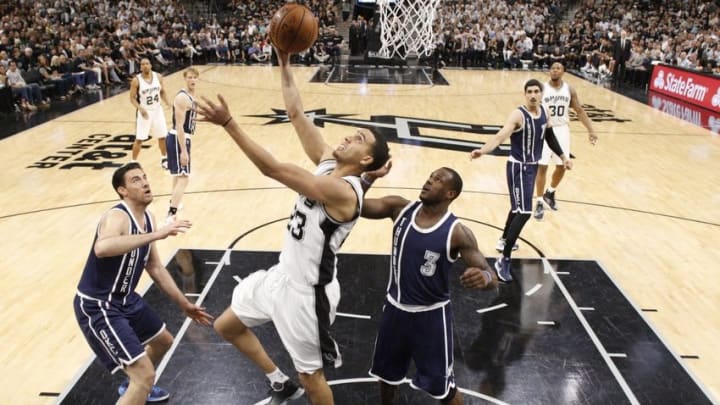 Apr 30, 2016; San Antonio, TX, USA; San Antonio Spurs guard Kevin Martin (23) shoots the ball as Oklahoma City Thunder power forward Nick Collison (4) and shooting guard Dion Waiters (3) look on in game one of the second round of the NBA Playoffs at AT&T Center. Mandatory Credit: Soobum Im-USA TODAY Sports /
Game 2 between the San Antonio Spurs and Oklahoma City Thunder in the Western Conference Semifinals is bound to answer a lot of lingering questions left by a shocking game 1 dismantling of the Thunder by the Spurs.
Are the Spurs really as good as their performance indicated? Or are the Thunder really as overrated as game 1 revealed them to be?
More from Spurs News
While it's possible that onlookers got lost in the enamor of Kevin Durant and Russell Westbrook without properly analyzing the talent of the entire team, it seems more probable at this stage that game 1 will serve as a boisterous outlier.
A vast minority of spectators going in gave the Thunder the advantage in this series against an objectively superior Spurs team in terms of overall ability, and while the series deficit isn't surprising at this stage, the point differential between the two teams is.
San Antonio outscored Oklahoma City 124-92 in the game 1 rout, and it would have been even worse had the Thunder not outpaced the Spurs by 7 points in a 4th quarter that had become mainly ceremonial at that point.
Teams more often than not win or lose at the hands of their superstars, and game 1 was no exception to this rule. As unusual as it may sound after a decade plus of Tim Duncan, Tony Parker, and Manu Ginobili more or less controlling the fate of the Spurs, Kawhi Leonard and LaMarcus Aldridge are now officially the focal points of the Spurs' on-court operations.
Both players put on a scoring clinic in game 1. Aldridge finished with 38 points and Leonard finished with 25 of his own.
Durant and Westbrook shriveled under the pressure of the Spurs' formidable defense. Durant scored 16 points and Westbrook was held to 14 points, each around 10 points less than what they averaged during the regular season.
Next: Serge Ibaka Can't Keep Scoring the Way He Did in Game 1
If the Thunder want to bounce back from a disappointing game 1, the recovery is going to have to be driven by dominant performances from Durant and Westbrook. Without those two rising to the occasion, the Thunder will be effectively outmatched by a historically adept Spurs lineup.