San Antonio Spurs News
San Antonio Spurs Demolish OKC Thunder in Game 1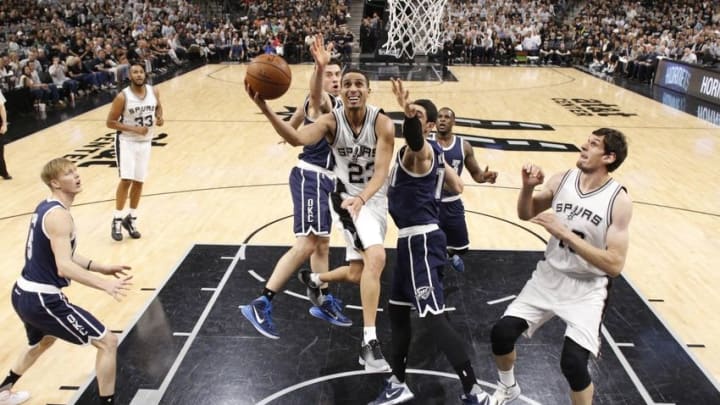 Apr 30, 2016; San Antonio, TX, USA; San Antonio Spurs guard Kevin Martin (23) shoots the ball as Oklahoma City Thunder power forward Nick Collison (4, left) and center Enes Kanter (11, right) defend in game one of the second round of the NBA Playoffs at AT&T Center. Mandatory Credit: Soobum Im-USA TODAY Sports
The San Antonio Spurs carried over their dominant postseason play into the semifinals, demolishing the Oklahoma City Thunder in game 1 by a score of 124-92.
The Spurs faced their first real challenge this postseason against the Thunder. Their series against the Memphis Grizzlies was decidedly one-sided, and the outcome was extremely predictable.
More from Spurs News
The Spurs got off to a strong start, going on a 19-6 run to open the game. Kawhi Leonard, Danny Green, and LaMarcus Aldridge provided the Spurs with solid shooting in the opening quarter.
The Spurs played aggressive defense, lead primarily by Leonard, and it created easy possessions on the offensive end for the Spurs, as they were able to break out on numerous odd-man rushes.
The Spurs climbed to a 20 point lead during the 1st quarter, and set a playoff record for most points in a quarter. The Spurs finished the quarter leading 43-20 after shooting a remarkable 18-22 from the field.
The Spurs continued their dominance in the 2nd quarter. Green looked sharp shooting from the perimeter, and his improved shooting in the playoffs has been refreshing for the Spurs.
The Thunder looked completely out of sorts. Their defense was weak, and Russell Westbrook got off to a putrid start shooting the ball. Suddenly they faced a demoralizing 30 point deficit in front of a raucous Spurs' crowd.
Aldridge had 25 points in the first half, and OKC looked baffled at how to possibly slow him down.
Kyle Anderson ended the amazing half with a demonstrative block. The score was 73-40 at halftime, representing the largest lead at halftime for any series so far in the 2016 playoffs.
The Spurs kept their foot on the gas in the 3rd quarter, not allowing the Thunder to gain any meaningful momentum. Tony Parker had double digit assist totals before the 3rd quarter had ended.
Aldridge continued his dominant performance, and the Spurs coasted to a 105-66 lead at the end of the 3rd quarter.
The Spurs used the opportunity to rest their starters in the 4th quarter, and let their backups finish out the game. The final score was 124-92.
Aldridge finished with 38 points in just 30 minutes of play. Leonard added 25 of his own, and Green netted 18 points behind his 5-6 performance on 3 pointers.
Next: San Antonio Spurs vs. OKC Thunder Game 1 Live Thread
Game 2 is in San Antonio and scheduled for Monday May 2nd.