San Antonio Spurs Easily Beat Memphis Grizzlies in Game 2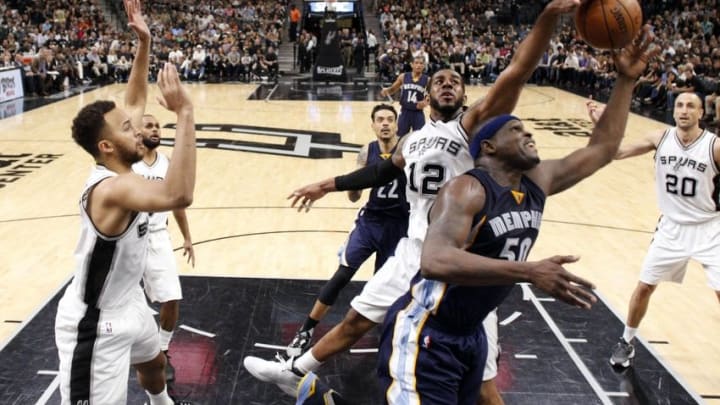 Apr 19, 2016; San Antonio, TX, USA; Memphis Grizzlies power forward Zach Randolph (50, front) has his shot blocked by San Antonio Spurs power forward LaMarcus Aldridge (12, behind) in game two of the first round of the NBA Playoffs at AT&T Center. Mandatory Credit: Soobum Im-USA TODAY Sports /
The San Antonio Spurs demolished the Memphis Grizzlies 94-68 to take a 2-0 series lead.
The Grizzlies appeared to be at least attempting to utilize Zach Randolph's talent on offense early in the game, undoubtedly realizing that they need to ride their last viable offensive option in this series to have any chance to win a game. He all but disappeared in a lackluster game 1 performance, and game 2 proved to be equally challenging for him.
Neither team shot well in the opening quarter, but the Spurs ended the first quarter on a 9-0 run capped by a Patty Mills 3 pointer to put them up 22-11.
More from Spurs News
The Spurs opened the 2nd quarter with a Manu Ginobili 3 pointer, extending their run. The Grizzlies team refused to quit, though, increasing their defensive intensity early in the 2nd quarter.
The Spurs were able to withstand the storm, and their offense began picking up towards the end of the quarter. The Spurs went on a 9-0 run thanks to contributions from their bench players like Boris Diaw and Kevin Martin.
To combat Randolph's interior presence, the Spurs applied physical double-teams to exhaust him in the paint. His shooting performance struggled as a result. The Spurs were up 49-35 at halftime.
The Grizzlies were held without a 3 point field goal in the opening half, highlighting their inability to shoot from the perimeter. No Spurs were in double digits in the first half, instead relying on a balanced offensive attack.
Tim Duncan took the mantle from Danny Green as the bashful Spurs' player on offense, not taking a shot in the first two thirds of the game and finishing the game with only one filed goal attempted. Green upped his total to 6 shots, and went an impressive 2-4 from deep.
The sizable lead for the Spurs maintained through the 3rd quarter, as Memphis simply looked overwhelmed without Marc Gasol and Mike Conley to help them out.
The Grizzlies' field goal percentage hovered in the low 30s through the third quarter, underscoring another disheartening performance.
For the second game in a row, the Spurs' second unit closed out the 4th quarter to clinch a commanding 94-68 win.
Mills lead the game with 16 points. Randolph earned a double-double with 11 points and 12 rebounds for the Grizzlies, but he struggled from the field, shooting only 5-17.
Next: Keys to Victory for San Antonio Spurs in Game 2
Game 3 will move this series to Memphis for the first time. Mark your calendars for Friday, April 22 to see if the Spurs can continue their dominant play on the road.