Kawhi Leonard Wins Defensive Player of the Year Award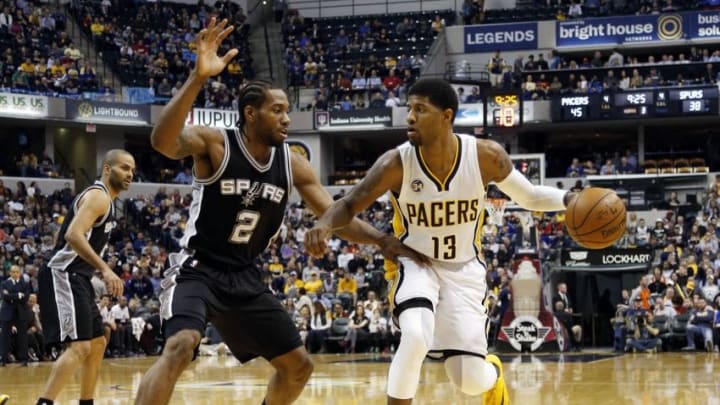 Mar 7, 2016; Indianapolis, IN, USA; Indiana Pacers forward Paul George (13) drives to the basket against San Antonio Spurs guard Kawhi Leonard (2) at Bankers Life Fieldhouse. Indiana defeats San Antonio 99-91. Mandatory Credit: Brian Spurlock-USA TODAY Sports /
Kawhi Leonard has won his second consecutive Defensive Player of the Year Award.
Leonard anchored the San Antonio Spurs' top ranked defense and has proven to be the best perimeter defender in the NBA for the past two seasons.
Much like the vote total last year, this race was essentially between Leonard and Draymond Green of the Golden State Warriors, but the results were more definitive this season. Green got more first place votes than Leonard did last season but came in second in the final voting total. This year, however, Leonard got 84 first place votes to Green's 44, so there's not as much to quibble about in the validity of this season's bestowment.
More from Spurs News
The only other player to receive any first place votes was Hassan Whiteside of the Miami Heat, who got 2.
Leonard deserved to win this award. Not only is he the leader of the Spurs' top ranked defense and his individual defensive metrics are impressive, but watching him lock-down opposing players leaves little doubt about his defensive supremacy compared to his peers around the league. The analytics support what the fans can observe with their naked eye.
Green is a fantastic defender who's versatile enough to cover nearly any position on a pick-and-roll switch, and clearly he's more apt than Leonard to blockade the interior. Any spectator who'd lean towards giving this award to Green has a solid argument.
The Warriors are one of the most efficient defensive teams per 100 possessions, and the gap between Green and the second-best defender he shares the court with for the Warriors (Andrew Bogut) is arguably larger than Leonard's gap between his closest partner in crime on the defensive side (Tim Duncan), meaning that Green is more vital to the Warriors' defensive success.
Voters have a thankless job, but with Leonard and Green epitomizing terrific NBA defense in this era of basketball, they should feel relieved that they can't go wrong preferring either one over the other.
Next: Puzzling Game 1 for Danny Green
Even those two Hassan Whiteside voters have a decent case, but while Whiteside is the best rim protector in the league, Leonard and Green display more multifaceted defensive skills night in and night out.