San Antonio Spurs News
San Antonio Spurs vs. Memphis Grizzlies Game 1 Preview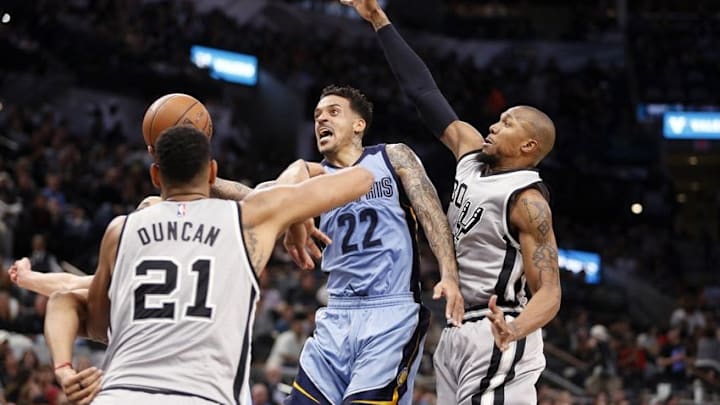 Mar 25, 2016; San Antonio, TX, USA; Memphis Grizzlies small forward Matt Barnes (22) shoots the ball as San Antonio Spurs power forward Tim Duncan (21) and David West (30, right) defend during the second half at AT&T Center. Mandatory Credit: Soobum Im-USA TODAY Sports
Game 1 of the San Antonio Spurs and Memphis Grizzlies series tips off later today. The Spurs will look to come out strong and assert their dominance after a historic regular season.
Over 75% of teams that win game 1 eventually go on to win NBA playoff series. Each team is well aware of the impact of losing the opening game and the stress of having to come from behind in a series.
While the Grizzlies have been dealt devastating injuries to their lineup, the Spurs appear relatively healthy as their postseason begins. LaMarcus Aldridge is still nursing a dislocated finger, but whether or not it significantly affects his play in this series remains to be seen.
More from Spurs News
The Spurs would need Aldridge to provide huge contributions throughout the playoffs if the Spurs want to hoist the championship trophy in June.
Expect game 1 to set the tone for what the rest of this series is going to look like. People are curious to see how the Grizzlies fare against an elite Spurs team without star players Marc Gasol and Mike Conley.
Few are expecting an upset, but varied theories float around to how competitive the Grizzlies can make this series. The old NBA credo stated that the Grizzlies are constructed to thrive in the playoffs when the pace slows down, the coach's rotations shorten, and the physicality increases. They're not a good perimeter shooting team, opting to let their big men go to work in the post and let their offense operate through their presence in the paint.
The success of the Golden State Warriors and Miami Heat in recent seasons without elite interior presence is forcing observers to re-think assumptions of how championships can be won. No longer is this a league predicated on dominant post-players, and the era of the jump-shooting perimeter team is being ushered in before our eyes.
The Spurs are lucky enough to rely on a mixture of both styles, engaging in whichever strategy any given game calls for. The Grizzlies may simply be an antiquated model in a league that is quickly moving away from their strengths. Their contrarian approach still makes them a threat to be reckoned with due to their suddenly unique talents, but only when all their pieces are engaged.
Next: San Antonio Spurs vs. Memphis Grizzlies Series Prediction
A Grizzlies lineup without Gasol and Conley can't be fairly critiqued. An "incomplete" may be more fair than any letter grade, but with the playoffs finally arriving, solace can't be provided for a team that finds itself facing a premier squad with realistic championship aspirations.