San Antonio Spurs News
Spurs' Boban Marjanovic Making The Most Of His Minutes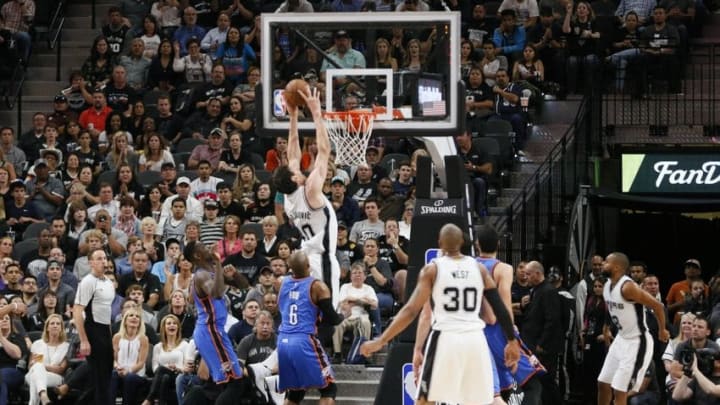 Apr 12, 2016; San Antonio, TX, USA; San Antonio Spurs center Boban Marjanovic (40) dunks the ball against the Oklahoma City Thunder during the second half at AT&T Center. Mandatory Credit: Soobum Im-USA TODAY Sports /
Standing at 7-foot-3, the Spurs massive center Boban Marjanovic is hard to miss. Marjanovic makes the most of his opportunities. This showed in the Spurs overtime win against the Thunder Tuesday.
Marjanovic is a fan favorite in San Antonio. When his number is called and he enters the game, every fan moves to the edge of their seat just to see what he is going to bring to the game. He is not quick, not flashy but does show what basketball intelligence he does have.
More from Spurs News
In the teams first overtime game of the season, Marjanovic played 22-minutes and had a very productive outing scoring nine while grabbing eight rebounds in the process. Marjanovic was the x-factor in the game as he got the team in position to win. Whether it was grabbing offensive rebounds and getting put-backs to setting off-ball screens for players to get open, he did the little things.
One point in the game, Marjanovic surprised a lot of people with a pass he delivered to David West on the baseline. After grabbing  rebound, Marjanovic executed a no-look pass to West whom was cutting to the basket. West missed the dunk.
Though the shot was not made, the ability to know where his teammate was going to be and pull off a pass as he did for being as tall as he is, was great.
There is still some areas where he does need to work on. Forcing passes and shots when they are not there. Marjanovic also plays well on the defensive end of the floor. He had two blocks in the game with one starting a run for the Spurs.
Everything he does on the floor, blocking shots, passing, rebounding or even dunking, he is doing it at a high-level. His work ethic is not going unnoticed as he gets praised from his teammates as well as fans around San Antonio.
He is a young player and still does have a lot to learn. Playing alongside the other San Antonio bigs such as Tim Duncan, LaMarcus Aldridge, Boris Diaw and David West, he will get some good pointers.